8
Dirty Love 10KRiver Grove Picnic Area Chagrin River Road,(between Chardon and Wilson Mills Roads) Willoughby Hills, OH 44094
Event Details
Sunday, February 8, 2015, 9:30 a.m.,  River Grove Picnic Area
The flames of love not keeping you warm? Maybe you need to try some dirty love to stoke the fire. The Dirty Love 10K that is. The scenic trail through North Chagrin Reservation in the Cleveland Metroparks is the perfect romantic setting complete with a view of Buttermilk Falls. A jaunt through Strawberry Fields and Squire's Castle are sure to get your blood pumping. Then, just when you don't think you can take anymore, you will finish the course on a trail that will definitely get your heart racing.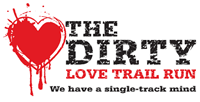 DISTANCE
10K
PACKET PICKUP
TBD, Vertical Runner Brecksville
Race day starting at 7:00
North Chagrin Reservation's River Grove Picnic Area
Chagrin River Road,(between Chardon and Wilson Mills Roads)
Willoughby Hills, OH 44094
AWARDS
Top 3 overall male and female, then 1st place in following 5-year age groups:
14 and under, 15-19, 20-24, 25-29, 30-34, 35-39, 40-44, 45-49, 50-54, 55-59, 60-64, 65-69, and 70+
SWAG
The classic Dirty Love mug in a new (top-secret) color!
Participants who sign up during early or regular registration are guaranteed the advertised swag in their chosen size.  Participants who sign up during late registration may be offered an alternative swag item.

REGISTRATION INFO
$35 Early Registration / $40 Jan 31 through February 8 @ 6p.m. / $45 Race Day
The Dirty Trail Series is presented by:
Sponsored by:

Location
River Grove Picnic Area Chagrin River Road,(between Chardon and Wilson Mills Roads) Willoughby Hills, OH 44094