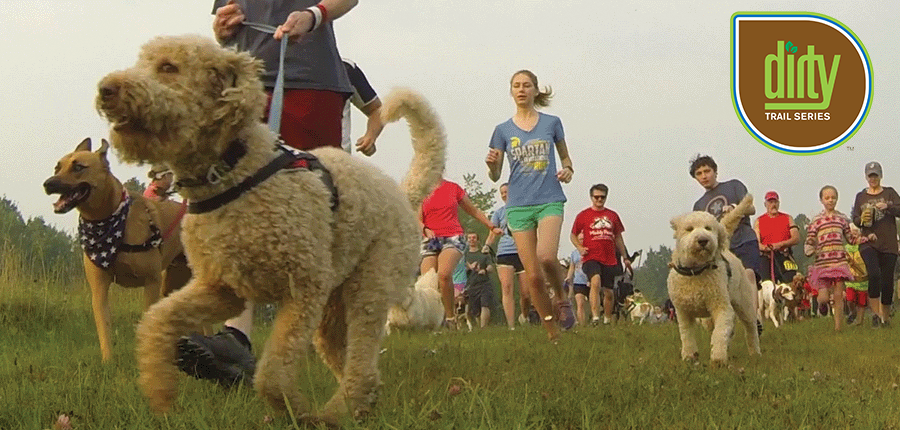 Saturday, June 19th 2021, 7:30 a.m.
Pine Hollow, CVNP
Part of the Dirty Trail Series presented by Salomon
APPROVED FOR IN PERSON RACING!
Join us for a scenic trail run (or hike) in the gorgeous Cuyahoga Valley National Park. Choose from a 5 or 10 mile trail race, or the 2 miler designed especially for dogs and their humans, or pick two events!

A portion of the proceeds from the event will benefit the Humane Society of Summit County. They will be bringing their Adoption Vehicle to the race, where you can meet some adorable, adoptable animals – maybe you'll find a new furry friend!
*Dogs are not required, but those who join us must be leashed.
Muddy Paws
10 Mile
5 Mile
2 Mile Dog Run
Early Registration through Jun 8
$50
$35
$17
Regular Registration Jun 9-18
$55
$40
$17
Race Day Registration
$60
$45
$17
Course Map
2021 Course Map – 10M
2021 Course Map – 5M
2021 Course Map – 2M
Aid Stations
Water stops on course. All participants are strongly encouraged to carry a water bottle.
Start Time
8:00 A.M.
8:15 A.M.
7:30 A.M.
Cutoff Time
None
None
None
Swag
Receive both: Purist Water Bottle AND Dirty Blend Coffee
Your choice: Purist Water Bottle OR Dirty Blend Coffee
Your choice: Collapsible Travel Bowl OR Poop Bag Dispenser

PURIST WATER BOTTLE – Purist technology shields the inside of the bottle form any bad taste, mold, or staining. As pure as drinking from a glass, but with all the advantages of a flexible bottle. Nothing sticks, so your bottle stays clean and your water always tastes pure.

DIRTY BLEND COFFEE – A medium blend of Colombian, Tanzanian, and Sumatra coffees with a buttery finish, specially blended for us by a local roaster.

Awards
Top 3 overall male and female, then 1st place in the following 5-year age groups: 15-19, 20-24, 25-29, 30-34, 35-39, 40-44, 45-49, 50-54, 55-59, 60-64, 65-69, 70-74 and 75+
Dogs are chip timed; awards TBD
Packet Pickup
Race Day pickup at Pine Hollow beginning at 6:45am. Option: Vertical Runner Hudson or Brecksville the week prior to race date during store hours.
Race Location
Pine Hollow, CVNP, 5465 Quick Rd, Peninsula OH 44264
Facebook
Join the Muddy Paws Facebook event
Refund Policy
View Refund Policy
Other Policies
View Other Policies – Swag, dogs, strollers, age requirements, etc.
Archived Results

2015 10M Results, 2015 5M Results
2014 10M Results, 2014 5M Results
2013 10M Results, 2013 5M Results