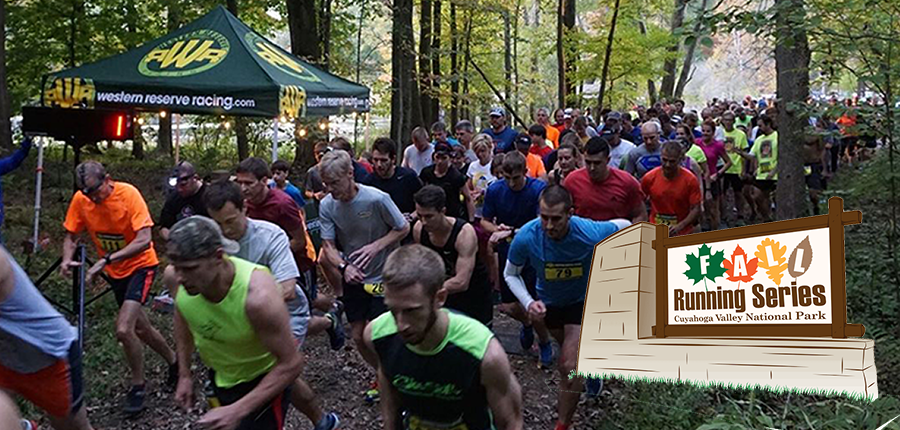 Tuesday evenings in October in the Cuyahoga Valley National Park
The Fall Running Series consists of weekly fun-themed running races, on weeknights during the month of October, at various locations in the Cuyahoga Valley National Park. It's a great time of the year to run and make new friends on the trails! The Fall Running Series includes awesome swag and 5 high-energy events with a twist. We've got some brand new crazy ideas in the works for this year! The "twist" will be announced just prior to the start of each run. All levels of runners and walkers are welcome — and you don't have to be the fastest to win!  Bring a flashlight or headlamp if you anticipate walking or running at a more moderate pace. Events will be held regardless of weather conditions.
A portion of the proceeds will support the Cuyahoga Valley National Park.
2021 FALL RUNNING SERIES EVENTS
Tuesday, September 28th, 6:15 p.m., Oak Hill, 3901 Oak Hill Rd, 44264
Tuesday, October 5th, 6:15 p.m., Pine Hollow, 5465 Quick Rd, 44264
Tuesday, October 12th, 6:15 p.m., Kendall Lake, 1000 Truxell Rd, 44264
Tuesday, October 19th, 6:15 p.m., Howe Meadow, 4040 Riverview Rd, 44264
Tuesday, October 26th, 6:15 p.m., Camp Butler, 800 W Streetsboro Rd, 44264
Early Registration through Aug 20
$120
Regular Registration Aug 21-Sep 20
$130
Late Registration Sep 21-28
$140
Single Event Registration
Limited, does not include swag, opens 1 week before each event
Distance
Between 3-5 miles
Start Time
6:15 P.M.
Swag
Gender-specific fleece full-zip hooded sweatshirt AND Feetures! performance socks for those who register for the Series package.
Packet Pickup
Race day, beginning at 5:00 P.M.
Series Awards

Top 3 overall male and female, then top 3 in the following age groups: 19 and under, 20-29, 30-39, 40-49, 50-59, 60+

Series Scoring: Only those registered for the complete series can earn awards (single race registrants are ineligible). Points will be awarded at each event based on overall placement by gender.

Refund Policy
View Refund Policy
Other Policies
View Other Policies – Swag, dogs, strollers, age requirements, etc.
SERIES STANDINGS