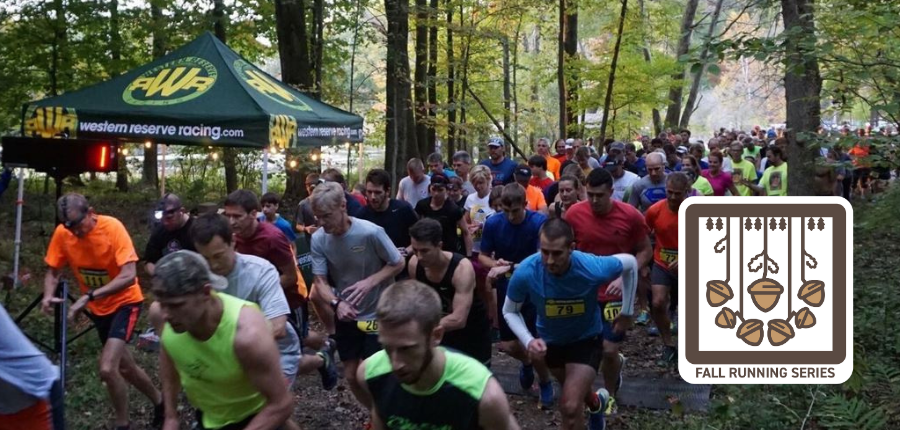 Tuesday evenings in October
Cuyahoga Valley National Park
3-6 Mile Trail Races
DESCRIPTION
Come join the fun in Cuyahoga Valley National Park! The Fall Running Series consists of weekly fun-themed trail races on Tuesday evenings in October. The series includes awesome swag and five high-energy events with a twist. Each event is held at a different location in the CVNP and is between 3 and 6 miles. To add to the excitement, the twist remains a secret until just before the start of the event. It's a great time of the year to make new friends on the trails!
All levels of runners and walkers are welcome, and you don't have to be the fastest to win. Bring a flashlight or headlamp if you anticipate walking or running at a more moderate pace. Events are held regardless of weather conditions.
Note: We have been granted special permission to run/hike with our dogs for event #5 at Camp Butler, but spectator dogs are not permitted on Camp Butler property at any time during this event.
2023 FALL RUNNING SERIES EVENTS
Tuesday, October 3rd, 6:15 p.m., Oak Hill, 3901 Oak Hill Rd, 44264
Tuesday, October 10th, 6:15 p.m., Pine Hollow, 5465 Quick Rd, 44264
Tuesday, October 17th, 6:15 p.m., Kendall Lake, 1000 Truxell Rd, 44264
Tuesday, October 24th, 6:15 p.m., Howe Meadow, 4040 Riverview Rd, 44264
Monday, October 30th, 6:15 p.m., Camp Butler, 800 W Streetsboro Rd, 44264
DONATIONS
Donations benefit the Conservancy for Cuyahoga Valley National Park.
SERIES SWAG
American Apparel® Unisex Heavyweight Long Sleeve T-Shirt
Clip-on LED Nathan Strobe Light
Feetures Elite Trail Max Cushion Quarter Socks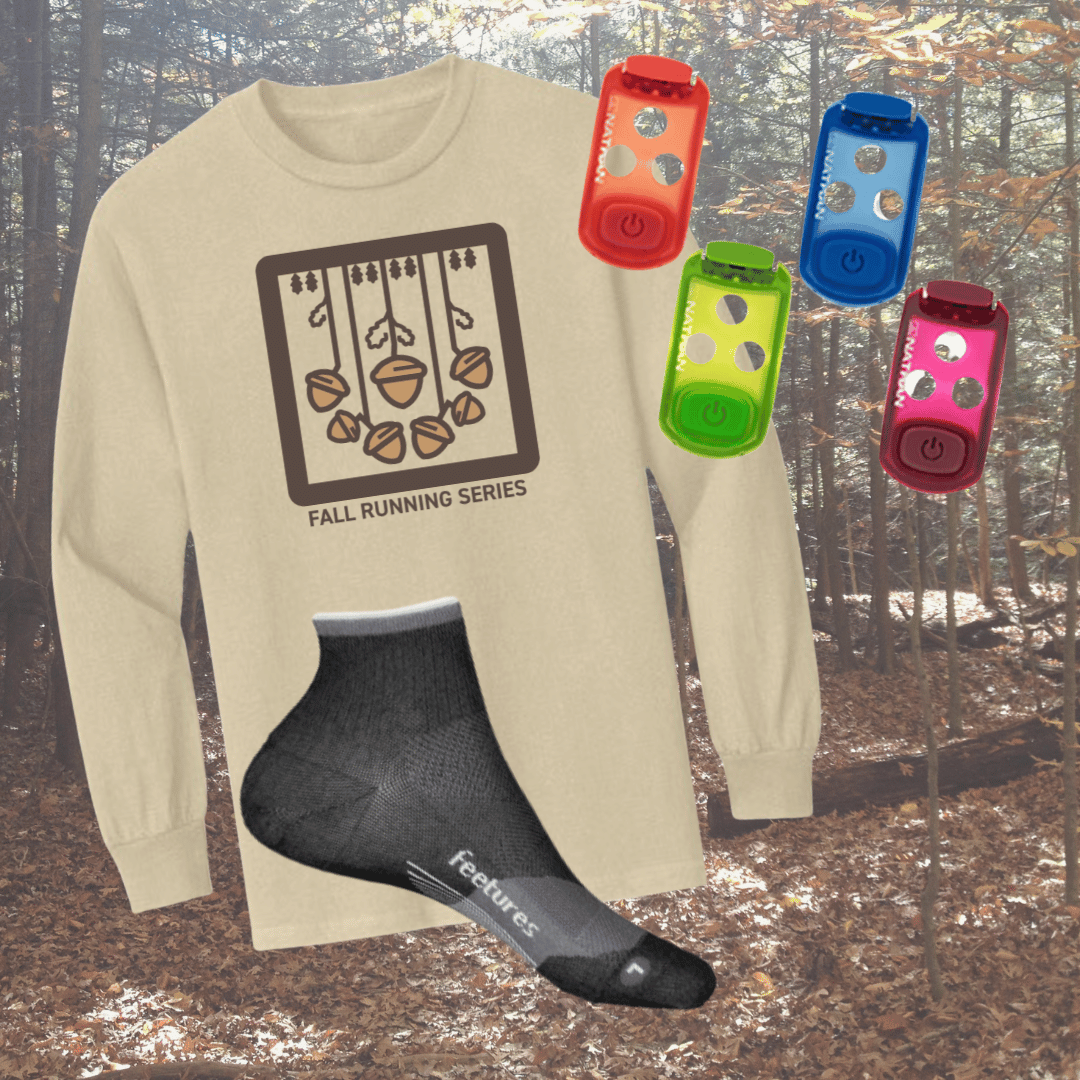 AWARDS
Top 3 Overall Male and Female
Top 1 Male and Female in the following 5-year age groups:
29 & Under, 30-34, 35-39, 40-44, 45-49, 50-54, 55-59, 60-64, 65-69, and 70 & Over
SERIES SCORING
SERIES PARTICIPATION: Participating will automatically enter you in the series. Series points will be awarded based on your overall ranking and your age group ranking – by gender. The first four races in the series will be counted. The last race, the fifth one, will be timed but will not count in the series points.
OVERALL SCORING BY GENDER: Events will be scored using a base of 50 points for a 1st place win, 49 for a 2nd place win, 48 for 3rd place, etc. Your scores will be summed to determine your placement overall. Overall winners will not be eligible for age group awards (no double dipping). Top 3 overall will be recognized.
AGE GROUP SCORING BY GENDER: Age groups will be scored by gender using a base of 10 points for a 1st place win, 9 for a 2nd place win, 8 for 3rd place, etc. Your highest 5 scores will be summed to determine your age group placement. Top 3 in each age group will be recognized.
REGISTRATION
Early Registration (through Sep 2) – $130
Regular Registration (Sep 3-22) – $140
Late Registration (Sep 23 – Oct 3) – $150
Registration for individual races opens 1 week before each event – $25 (does not include swag)
RACE DAY DETAILS
Start Time: 6:15 P.M. No cutoff time.
Packet Pickup: Begins at 5:00 P.M.
Water Stops: Located on course. Participants are encouraged to carry a water bottle.
SERIES STANDINGS
2019 Series Standings  Female  Male
2018 Series Standings  Female  Male
2017 Series Standings  Female  Male
2016 Series Standings  Female  Male
2015 Series Standings  Female  Male
2014 Series Standings  Female  Male