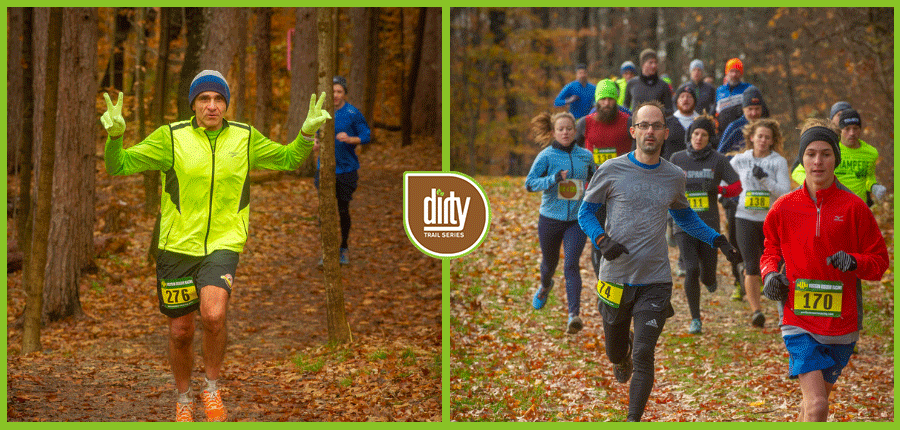 Sat, November 23, 2024
North Chagrin Reservation
15k Trail Race
Part of the Dirty Trail Series – Hikers welcome!
DESCRIPTION
Prepare for a double dirty trail challenge at the Dirty Dirty 15k, the final race of the Dirty Trail Series. This 15k course takes you on an exciting two-loop tour through the picturesque North Chagrin Reservation of the Cleveland Metroparks. The park's delicate balance between outdoor recreation and wildlife preservation is the perfect backdrop for your race. It will test your endurance while also allowing you to connect with nature as you run or hike alongside wildlife sanctuaries.
On this reverse run of the Dirty Love 15k, you will be greeted by diverse and scenic landscapes, from woodlands to meadows, and along the way, you'll encounter iconic landmarks such as Squires Castle, Buttermilk Falls, and Oxbow Lagoon.
Don't miss this last chance to embrace the thrill of a Dirty Trail Series race this year and have some fun with us afterward. Join us for the year-end Dirty Series Party, with food, prizes, and the much anticipated Dirty Series awards ceremony!
COURSE
Click here to view the 2023 Dirty Dirty 15k course map
DONATIONS
Donations benefit the Trails Division of Cleveland Metroparks.
SWAG OPTIONS
AWARDS
Top 3 Overall Male and Female
Top 3 Male and Female in the following 5-year age groups:
29 & Under, 30-34, 35-39, 40-44, 45-49, 50-54, 55-59, 60-64, 65-69, and 70 & Over
REGISTRATION
Early Registration (through October 24): $45
Regular Registration (October 25 – November 13): $50
Late Registration (November 14-23):$55
RACE DAY DETAILS
Start Time: 9:00 A.M. (3 hour cutoff)
Packet Pickup: 7:30 A.M.
Fluid Stations on course. Participants are encouraged to carry water.
MORE INFORMATION
Dirty Dirty 15k is part of the Dirty Trail Series, featuring races from 5k to half marathon distances on some of the best hiking and bridle trails in Northeast Ohio.
Archived Results
2016 Results
2015 Results
2014 Results
2013 Results