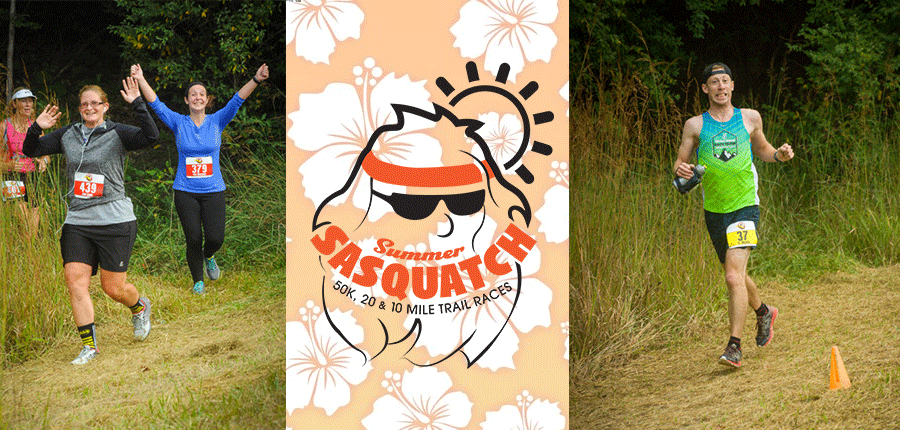 Saturday, June 11, 2022, 7:30 a.m.
Sunday, June 12, 2022, 9:00 a.m.
Salt Fork State Park Lodge
Part of the Ohio Endurance Series
The Summer Sasquatch 50k, 20 & 10 Miler will challenge you with a permanently marked 10.4-mile loop course over rolling hills on the hiking and bridle trails of Salt Fork State Park. This beast is marked with pink blazes and permanent wooden signs and is known for eating trail shoes!
50K participants will run a total of three loops for over 4,000′ of elevation gain, 20 Milers will run two loops, and 10 Milers will complete one. Hikers are welcome in the Summer Sasquatch 10 Miler! This is a 2-day event. Saturday will include 50k, 20 & 10 mile distances, with an 8-1/2 hour cutoff time. No awards will be given for the Saturday 10 miler. Sunday will include only a 10 mile event, with a 5 hour cutoff time and awards.
Salt Fork Lodge offers great rooms at reasonable prices. Enjoy a great meal in the restaurant, relax in the indoor/outdoor pool, and have some fun in the game room and outdoors. Call (740) 439-2751 and request the Summer Sasquatch room block when making your reservation.
Summer Sasquatch
50k (Saturday)
20M (Saturday)
10M (Saturday)
10M (Sunday)
Early Registration through May 11
$85
$70
$45
Regular Registration May 12-31
$90
$75
$50
Late Registration June 1-12
$95
$80
$55
Distance
50k
20 miles
10 miles
Hikers welcome
Course Map
Coming soon!
Coming soon!
Coming soon!
Aid Stations
Start/Finish and Mile 6

Aid stations will stock water, Hammer HEED and Gels, and electrolytes. All participants are encouraged to carry a water bottle.

Drop Bag Location
At Start/Finish near the aid station

Mark your drop bag with your bib number and bring it to the start of the race.

Start Time
7:30 A.M. Saturday
7:30 A.M. Saturday
7:30 A.M. Saturday
9:00 A.M. Sunday
Cutoff Time
8-1/2 hours
8-1/2 hours
8-1/2 hours Saturday
5 hours Sunday
Swag
Choose from two swag package options:

Ohio Endurance Series full zip jacket, race sticker, and finisher medal
Summer Sasquatch tech tee, race sticker, and finisher medal

Packet Pickup
Location: Salt Fork Lodge 4th floor (the Summit Room)

Friday 6:00-8:00 P.M.
Saturday 6:00-7:30 A.M. and 7:00-8:00 P.M.
Sunday 7:30-9:00 A.M.

Race Location
Salt Fork State Park Lodge, 14755 Cadiz Rd, Lore City OH 43755
Awards
Top 3 overall male and female, then top 3 in the following age groups: 29 and under, 30-39, 40-49, 50-59, 60+ (36 awards total); top male and female receive free entry to the following year's race
Top 3 overall male and female, then top 3 in the following age groups: 29 and under, 30-39, 40-49, 50-59, 60+ (36 awards total)
Saturday: No awards
Sunday: Top 3 overall male and female, then top 3 in the following age groups: 29 and under, 30-39, 40-49, 50-59, 60+ (36 awards total)
Facebook
Join the Summer Sasquatch Facebook event
Policies
View our policies on refunds, deferrals, swag, and more