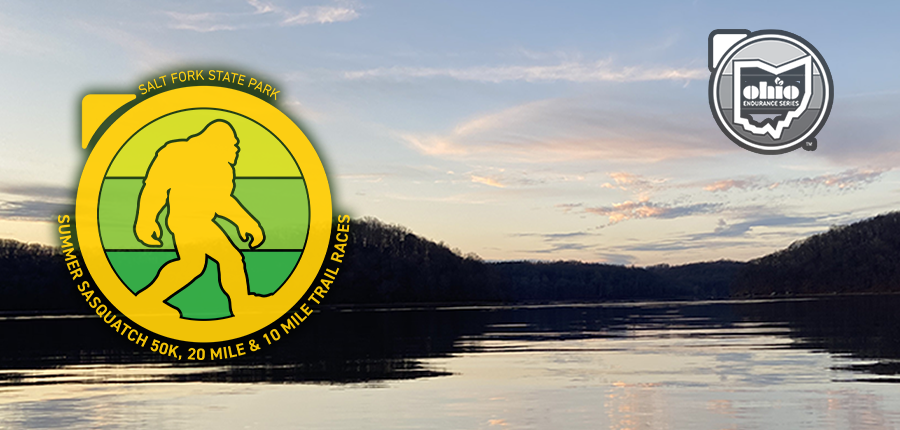 Sat, June 10, 2023
7:30 A.M.
Sun, June 11, 2023
9:00 A.M.
Salt Fork State Park
50k, 20 & 10 Mile Trail Race
Part of the Ohio Endurance Series
Hikers Welcome in the 10 Miler
The Summer Sasquatch 50k, 20 & 10 Miler will challenge you with a permanently marked 10.4-mile loop course over rolling hills on the hiking and bridle trails of Salt Fork State Park. This beast is marked with pink blazes and permanent wooden signs and is known for eating trail shoes!
50K participants will complete a total of three loops for over 4,000′ of elevation gain, 20 Milers will complete two loops, and 10 Milers will complete one. Hikers welcome! Saturday will include 50k, 20 & 10 mile distances, with an 8-1/2 hour cutoff time. Sunday will include only a 10 mile event, with a 5 hour cutoff time. Awards will be given for all events. For an extra challenge, participate on Saturday AND Sunday and get 50% off the Sunday 10 Miler.
LODGING
Salt Fork Lodge offers great rooms at reasonable prices. Enjoy a meal in the restaurant, relax in the indoor/outdoor pool, and have some fun in the game room and outdoors. To get the special discounted rate, you must call the reservation line at 740-435-9000 to reserve your room under the Western Reserve Racing Summer Sasquatch block. A deposit is due at the time the reservation is made, and the deposit is fully refundable up to 72 hours prior to arrival.

SASQUATCH FUN FACTS
Salt Fork State Park is the largest park in Ohio, and it is the home of Ohio's largest creature.
Sasquatch – aka Bigfoot, Yeti, Ohio Grassman – is 6-8 feet tall, with footprints 13-17 inches long, and is rumored to have lived in Ohio since the mid-1700's.
With over 36 sightings reported since the mid-1980's, Salt Fork is known as the Bigfoot Capital of Ohio. There's even a park map that shows the areas of the sightings.
Since 2005, Salt Fork has annually hosted the world's longest running Bigfoot conference, as well as Bigfoot Night Hikes and Bigfoot Adventure Weekends.
The park's annual Creature Weekend is dedicated to Cryptozoology, the study of hidden animals like Bigfoot that have yet to be identified by science or are thought to be extinct.
Several TV specials about Sasquatch have been filmed at Salt Fork.
It is no surprise that in 2012 Salt Fork State Park was named one of USA Today's Top Ten "Squatchiest" Places!
Donations benefit Guernsey County Sheriff's Mounted Search and Rescue.