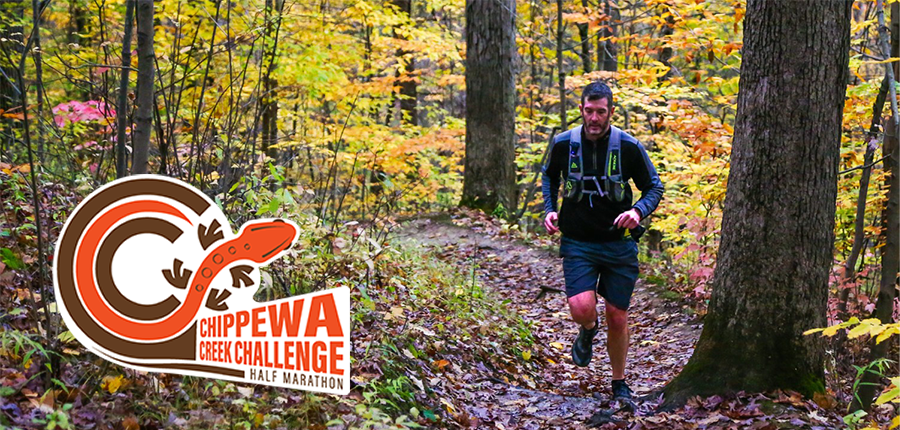 Sat, October 28, 2023
Brecksville Reservation
Trail Half Marathon
Part of the Dirty Trail Series – Hikers welcome!
DESCRIPTION
Are you ready to conquer the ultimate autumn adventure? Join us for an unforgettable trail experience among the stunning beauty of the Brecksville Reservation in the heart of the Cleveland Metroparks. Lace up your shoes and immerse yourself in the stunning fall foliage – a vibrant symphony of reds, oranges, and golds that can only be found during the peak of fall.
Our race logo pays homage to the whimsical Spotted, Redback, and Jefferson Salamanders that call Chippewa Creek their home. In the Spring, these tiny creatures embark on a journey from the woods to vernal breeding pools, symbolizing endurance and the spirit of exploration – qualities you'll embody as you tackle the Chippewa Creek Challenge.
COURSE
Whether you're an experienced trail runner, or a beginning runner or hiker, Chippewa's course offers a mix of terrains and elevations that will challenge your body and invigorate your soul. Feel the rush as you conquer steep inclines and navigate twists and turns. Embrace the beauty and serenity of the season while pushing your boundaries at the Chippewa Creek Challenge Half Marathon – where the trails, scenery, and the spirit of the salamander await your epic journey.
Click here to view the 2023 Chippewa Creek Challenge Half Marathon course map
DONATIONS
Donations benefit the Trails Division of Cleveland Metroparks.
SWAG OPTIONS
Chippewa Triblend Tee (unisex XS-2XL)
Finisher Medal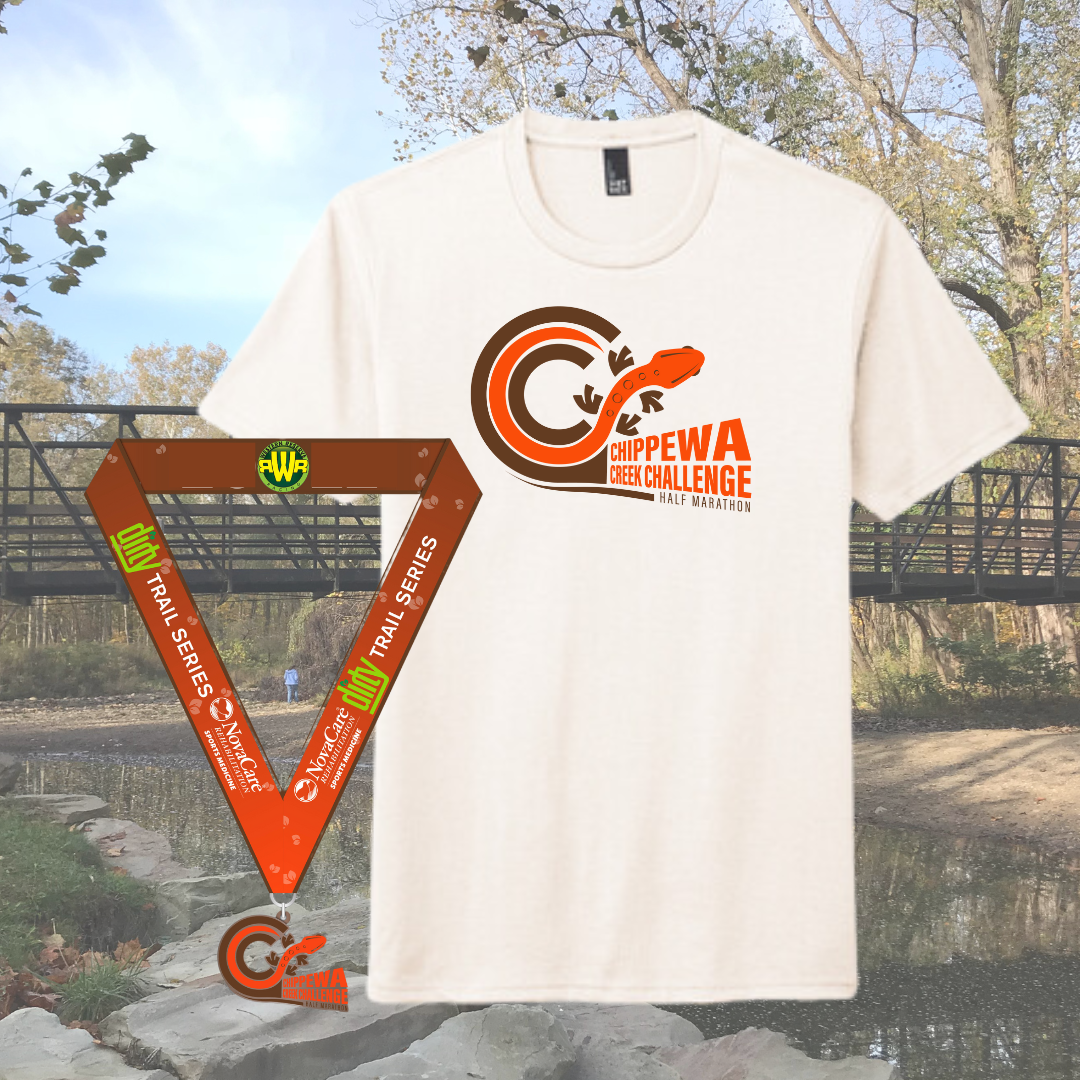 AWARDS
Top 3 Overall Male and Female
Top 3 Male and Female in the following 5-year age groups:
29 & Under, 30-34, 35-39, 40-44, 45-49, 50-54, 55-59, 60-64, 65-69, and 70 & Over
REGISTRATION
Early Registration (through September 27): $65
Regular Registration (September 28 – October 17): $70
Late Registration (October 18-28): $75
RACE DAY DETAILS
Start Time: 9:00 A.M. (5 hour cutoff)
Packet Pickup: 7:30 A.M.
Fluid stations on course will stock water, sports drink, and gels. An additional snack will be served at the finish line. Participants are encouraged to carry water.
MORE INFORMATION
Chippewa Creek Challenge is part of the Dirty Trail Series, featuring races from 5k to half marathon distances on some of the best hiking and bridle trails in Northeast Ohio.
Archived Results
2016 1 Mile Results
2015 Results,  2015 1 Mile Results
2014 Results, 2014 1 Mile Results
2013 Results