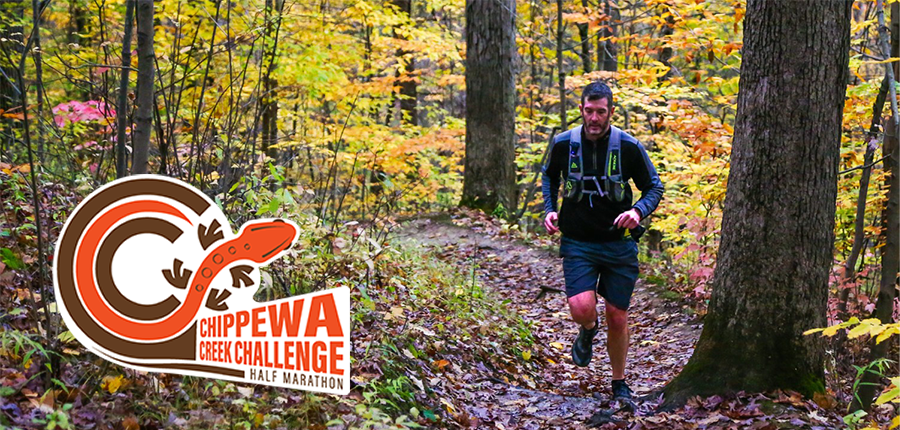 Sat, October 28, 2023
Brecksville Reservation
Trail Half Marathon
Part of the Dirty Trail Series – Hikers welcome!
DESCRIPTION
The Chippewa Creek Challenge Half Marathon will allow you to explore many of the trails throughout the Brecksville Reservation of the Cleveland Metroparks. Leaf peepers and fall lovers will enjoy viewing the autumn scenery and gorgeous multicolored foliage along the way.
Why a salamander in the race logo? Brecksville Reservation has vernal pools with Spotted, Redback, and Jefferson varieties of Salamanders. In the spring, thousands of salamanders undergo a trek from their home in the woods to the vernal breeding pools. Not only are they just the cutest little animals but can you believe they have been on the Earth for more years than we have existed in days!
COURSE
Click here to view the 2023 Chippewa Creek Challenge Half Marathon course map
DONATIONS
Donations benefit the Trails Division of Cleveland Metroparks.
SWAG OPTIONS
Something awesome TBD and a finisher medal!
AWARDS
Top 3 Overall Male and Female
Top 3 Male and Female in the following 5-year age groups:
29 & Under, 30-34, 35-39, 40-44, 45-49, 50-54, 55-59, 60-64, 65-69, and 70 & Over
BECOME A DIRTY VIP
Dirty Trail Series VIP Members receive the following benefits:
Entry to all 2023 Dirty Trail Series events
An additional entry to Muddy Paws 2 Mile Dog Run
50% one-time discount on Dirty merchandise
15% discount on a pair of trail shoes at Vertical Runner
Swag for each race
Special VIP race bib
Invitation to the Dirty Series Awards Party (includes lunch and raffle)
$370 value for $300 (19% savings!)
When you register for Chippewa, select the Dirty VIP Membership Bundle.
REGISTRATION
Early Registration (through September 27): $65
Regular Registration (September 28 – October 17): $70
Late Registration (October 18-28): $75
RACE DAY DETAILS
Start Time: 9:00 A.M. No cutoff time.
Packet Pickup: 7:30 A.M.
Fluid stations on course will stock water, sports drink, and gels. An additional snack will be served at the finish line. Participants are encouraged to carry water.
MORE INFORMATION
Chippewa Creek Challenge is part of the Dirty Trail Series, featuring races from 5k to half marathon distances on some of the best hiking and bridle trails in Northeast Ohio.
Archived Results
2016 1 Mile Results
2015 Results,  2015 1 Mile Results
2014 Results, 2014 1 Mile Results
2013 Results