Sat, September 3, 2022
Camp Manatoc
Part of the Dirty Trail Series
The trails of this 15k & 5k run wild and free, like the falling water you'll see while passing Minnehaha Falls. The private trails of Camp Manatoc are normally closed to the public. Don't miss your opportunity to experience them!
Looking for an extra challenge? Participate in the Minnehaha 5k at 8:00 A.M. and return to the start line for the Leave No Trace Half Marathon at 9:00 A.M.!
We have been granted special permission to run/hike with our dogs for this event at Camp Manatoc (but no spectator dogs, please).
Donations benefit Camp Manatoc, home of the Great Trail Council, Boy Scouts of America.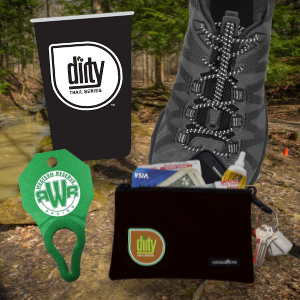 Minnehaha
15k
5k
Early Registration through August 3
$45
$25
Regular Registration August 4-23
$50
$25
Late Registration August 24 – September 3
$55
$30
Course Map
2022 15k Course Map
2022 5k Course Map
Aid Stations
Water stops on course – Participants are encouraged to carry a water bottle
Water stops on course – Participants are encouraged to carry a water bottle
Start Time
8:00 A.M.
Cutoff Time
None
Swag
Your choice of one of the following:

Nathan Reflective Locking Run Laces
Tick Patrol Tick Remover
SweatVac Wrap Pack
Kleen Kanteen Dirty Trail Series Pint Cup

15k participants receive one of the above PLUS a Pint Cup

Packet Pickup
Race day starting at 6:30 A.M.
Race Location
Camp Manatoc, 1075 Truxell Rd, Peninsula OH 44264
Awards
Top 3 Overall Male and Female, and Top 3 Male and Female in the following age groups: 29 & Under, 30-39, 40-49, 50-59, 60-69, and 70 & Over (42 awards total)
Top 3 Overall Male and Female, and Top 3 Male and Female in the following age groups: 29 & Under, 30-39, 40-49, 50-59, 60-69, and 70 & Over (42 awards total)
Policies
View our policies on refunds, deferrals, swag, and more