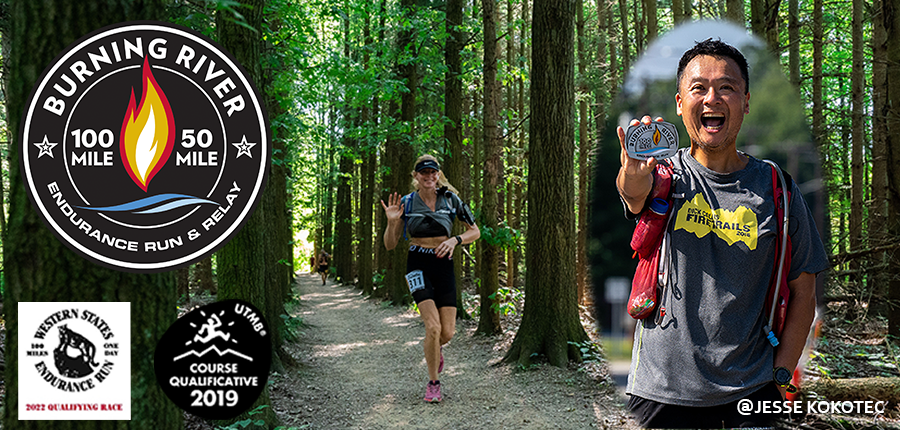 Saturday, July 24th – July 25th, 2021
Cuyahoga Falls
APPROVED FOR IN PERSON RACING!
The 15th Annual Burning River Endurance Run & Relay is an exciting 100 and 50 mile solo run and 100 mile relay held in Northeast Ohio. The race travels through several of the region's most scenic areas, including the Cuyahoga Valley National Park and the Summit Metro Parks.
The 100 Mile out and back course begins on Front Street in Downtown Cuyahoga Falls and then enters/follows the scenic Cuyahoga River Valley Corridor to the halfway point at Silver Springs Park in Stow before turning around and heading back to Cuyahoga Falls. 50 Mile participants will complete a point to point course from Cuyahoga Falls to Silver Springs, and 50 Mile Back Half participants will start in the evening at Silver Springs and finish in Cuyahoga Falls. The course consists of hiking trails, towpath, all-purpose trails, and short sections of road for connectivity.
The 2021 Burning River 100 is a Western States qualifier, the 3rd leg of the Midwest Grand Slam of Ultarunning, and a UTMB qualifying race! Based on the ITRA's point system, we are anticipating our event will receive 5 points. You can find more details at the following link – ITRA. In addition, the Grand Slam of Ultrarunning will include Burning River 100 this year as a substitute for the canceled Vermont 100.
Race Details
Burning River
100M
50M &
50M Back Half
8 Person &
4 Person Relay
Registration

through December

$225
$125
$81.25/person
$112.50/person
Registration Jan-Apr
$250
$145
$81.25/person
$112.50/person
Registration May-Jun
$275
$175
$93.75/person
$137.50/person
Registration July
$315
$195
$93.75/person
$137.50/person
Information Guides
2021 Burning River Participant Information Guide
2021 Burning River Relay Participant Addendum

These documents are continuously updated. Please check back to ensure you are viewing the latest version. Participants will receive an email when a revision is made.

Course Map
2021 100M Course Map
2021 50M Course Map
2021 50M Back Half Map

Elevation Gain = approx. 8000 ft/100M; 4000 ft/50M.
Elevation Profiles and Course & Aid Station Overview are included in the Information Guide.

Start Time
4:00 A.M.
6:00 A.M.
6:00 P.M.
7:00 A.M.
Cutoff Time
30 hours
15 hours
16 hours
27 hours
Race Start Location
100M/50M/Relay: High Bridge Glens Park, 1817 Front St, Cuyahoga Falls, OH 44221

50M Back Half: Silver Springs Park, Stow, OH

Bus tickets to start line available in the Gear Store.

Swag
100M: BOCO Gear Backpack, 2021 Commemorative Poster, Race Sticker, 100M Buckle; Gold Sub-24 Buckle for finishers under the 24 hour mark

50M/50M Back Half: BOCO Gear Backpack, Race Sticker, 50M Finisher Medal

Relay: BOCO Gear Backpack, Race Sticker, Relay Finisher Medal

Race Expo
Packet Pickup, Drop Bag Collection, Gear Store, Rules Meetings

Wednesday, July 21, 3-9 P.M.
Thursday, July 22, 12-9 P.M.
Friday, July 23, 12-8 P.M.

Sheraton Hotel, Outdoor Tent, 1727 Front Street, Cuyahoga Falls, OH 44221

Awards
100M/50M/50M Back Half: Top 5 overall Male and Female, then top 1 in the following age groups by gender – 29 and under, 30-39, 40-49, 50-59, 60+. Top Male and Female receive free entry to the following year's race.

8P Relay/4P Relay: Top 1 Men's Team, Women's Team, and Co-Ed Team. Female participants must run at least 25% of the segments to be considered for Co-Ed awards.

Lodging
Sheraton Suites Akron Cuyahoga Falls – Just steps away from the BR100 start/finish. Suites include separate sleeping and living quarters, 2 double beds, pull-out couch. Must book through this link for discounted race rate.

Pre-Race Dinner served at the Sheraton, Friday 5:30-8:00 P.M. Tickets may be purchased in the Gear Store.

Facebook
Join the Burning River Facebook event
Fundraising
Run for free! Raise funds for the Cuyahoga Valley National Park and Summit Metro Parks Foundation to help ensure quality Ohio trails for years to come. Choose to become a fundraiser during registration and your fee will be waived.

Fundraising minimums: 100M = $500; 50M = $275; Relay = $200. Deadline to meet your goal is July 1st.

Refund Policy
View Refund Policy
Other Policies
View Other Policies – Swag, dogs, strollers, age requirements, etc.