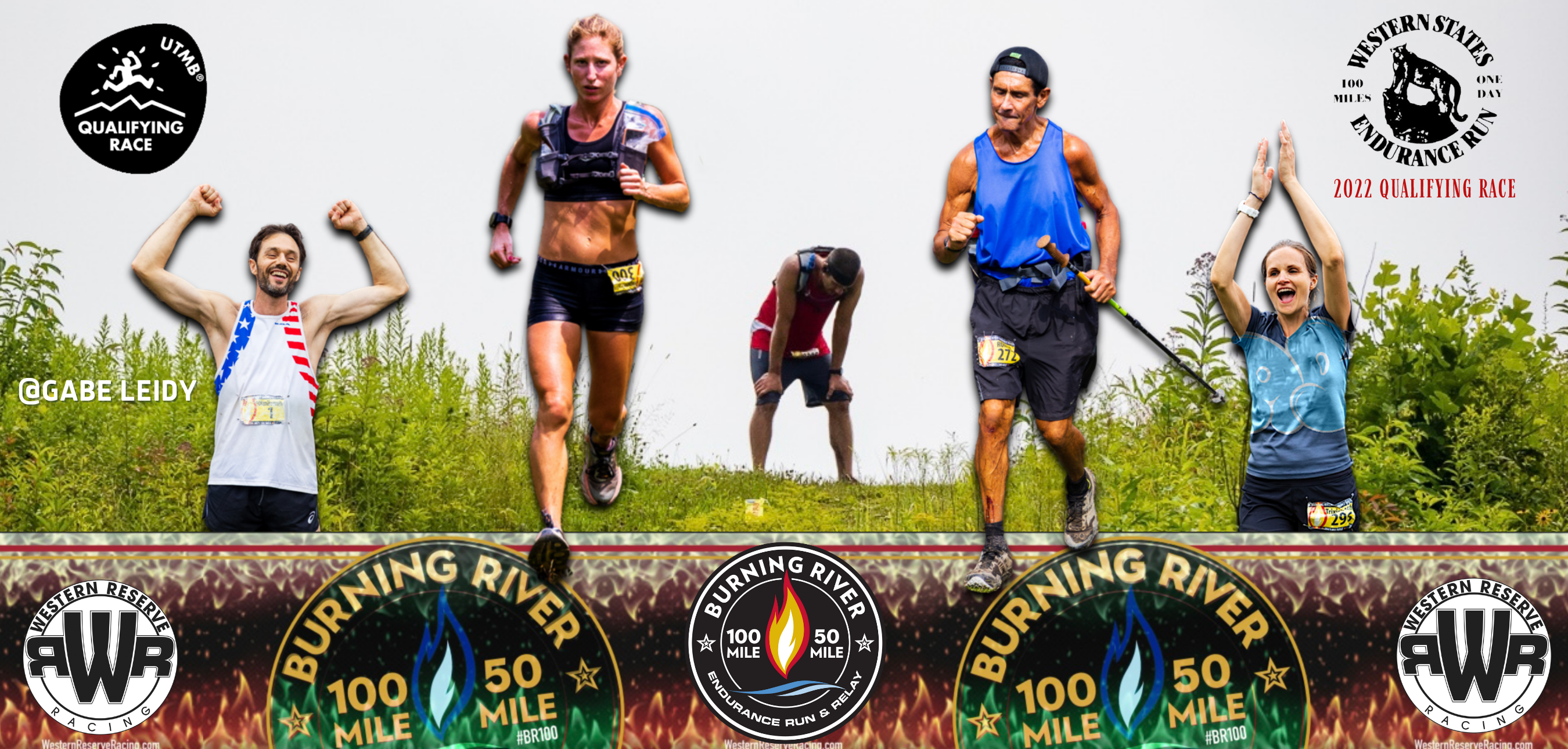 Saturday, July 30th – July 31st, 2022
Cuyahoga Falls
The 16th Annual Burning River Endurance Run & Relay is an exciting 100 and 50 mile solo run and 100 mile relay held in Northeast Ohio. The race travels through several of the region's most scenic areas, including the Cuyahoga Valley National Park and the Summit Metro Parks.
It is unclear whether the race will go back to a point to point this year, or remain an out and back as it has been for the last three years. We are exploring all options and hope to have a decision within the next 1-2 months.
The Burning River 100 is a Western States qualifier, the 3rd leg of the Midwest Grand Slam of Ultarunning, and a UTMB qualifying race! Based on the ITRA's point system, we are anticipating our event will receive 5 points. You can find more details at the following link – ITRA. 
Race Details
Burning River
100M
50M &
50M Back Half
8 Person &
4 Person Relay
Registration

through December

$230
$130
$81.25/person
$112.50/person
Registration Jan-Apr
$260
$160
$81.25/person
$112.50/person
Registration May-Jun
$280
$180
$93.75/person
$137.50/person
Registration July
$310
$210
$93.75/person
$137.50/person
Information Guides
2021 Burning River Participant Guide REV 2 July 14 2021
2021 Burning River Relay Participant Addendum REV 1
Course Map
Google Maps

2021 100M Course Map Rev 1 July 14 2021
2021 50M Course Map Rev 1 July 14 2021
2021 50M Back Half Map Rev 1 July 14 2021

GPX Files

2021 100M Course GPX Rev 1 July 14 2021
2021 50M Course GPX Rev 1 July 14 2021
2021 50M Back Half GPX Rev 1 July 14 2021

2021 100M Course

Elevation Gain = approx. 8000 ft/100M; 4000 ft/50M.
Elevation Profiles and Course & Aid Station Overview are included in the Information Guide.

Start Time
4:00 A.M.
6:00 A.M.
6:00 P.M.
7:00 A.M.
Cutoff Time
30 hours
15 hours
16 hours
27 hours
Swag
100M: Something awesome TBD, 2022 Commemorative Poster, Race Sticker, 100M Buckle; Gold Sub-24 Buckle for finishers under the 24 hour mark

50M/50M Back Half: Something awesome TBD, Race Sticker, 50M Finisher Medal

Relay: Something awesome TBD, Race Sticker, Relay Finisher Medal

Awards
100M/50M/50M Back Half: Top 5 overall Male and Female, then top 1 in the following age groups by gender – 29 and under, 30-39, 40-49, 50-59, 60+. Top Male and Female receive free entry to the following year's race.

8P Relay/4P Relay: Top 1 Men's Team, Women's Team, and Co-Ed Team. Female participants must run at least 25% of the segments to be considered for Co-Ed awards.

Lodging
Sheraton Suites Akron Cuyahoga Falls – Just steps away from the BR100 start/finish. Suites include separate sleeping and living quarters, 2 double beds, pull-out couch. Must book through the race room block link for discounted rate; 2022 link will be available soon.
Facebook
Join the Burning River Facebook event
Fundraising
Run for free! Raise funds for the Cuyahoga Valley National Park and Summit Metro Parks Foundation to help ensure quality Ohio trails for years to come. Choose to become a fundraiser during registration and your fee will be waived.

Fundraising minimums: 100M = $600; 50M = $400; 4P Relay = $300; 8P Relay = $250. Deadline to meet your goal is July 1st.

Refund Policy
View Refund Policy