Saturday, August 22nd 2020, 4:00 am – Sunday, August 23rd, 10:00 am
Cuyahoga Falls
Note: This race has been rescheduled for Saturday, August 22nd 2020.
RACE HAS BEEN APPROVED  – LIMITED REGISTRATION STILL AVAILABLE.
The 14th Annual Burning River Endurance Run & Relay is an exciting 100 and 50 mile solo run and 100 mile relay held in Northeast Ohio. The race travels through several of the region's most scenic areas, including the Cuyahoga Valley National Park and the Summit Metro Parks.
The 50 mile out and back course begins on Front Street in Downtown Cuyahoga Falls and then enters/follows the scenic Cuyahoga River Valley Corridor to the halfway point at Silver Springs Park in Stow before turning around and heading back to Cuyahoga Falls. The course consists of hiking trails, towpath, all-purpose trails, and short sections of road for connectivity.
The 2020 Burning River 100 is a Western States qualifier, the 3rd leg of the Midwest Grand Slam of Ultarunning, and a UTMB qualifying race! Based on the ITRA's point system, we are anticipating our event will receive 5 points. You can find more details at the following link – ITRA.
SWAG
100M – Team Duffel Bag, Klean Kanteen 16oz Insulated Tumbler, 2020 Burning River poster, and BR sticker
50M – Team Duffel Bag, Klean Kanteen 16oz Insulated Tumbler, and BR sticker
Relay – Team Duffel Bag, and BR sticker
Note: Swag has already been ordered to guarantee delivery by race day. Quantities are limited and may not be available to late registrants.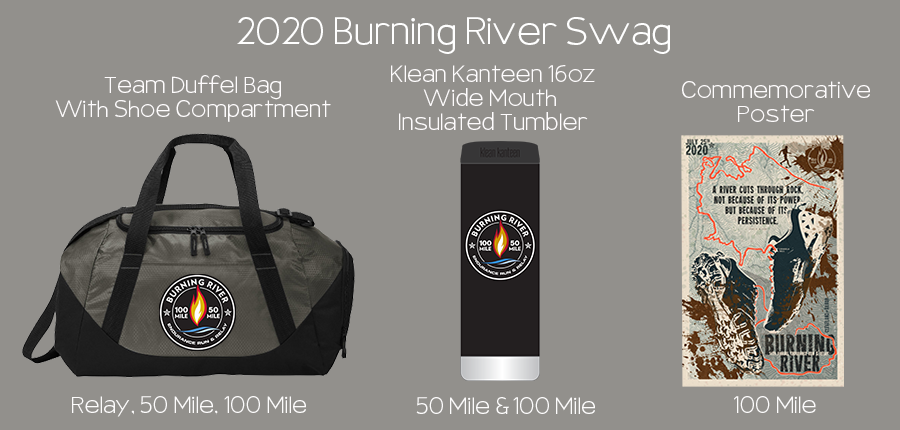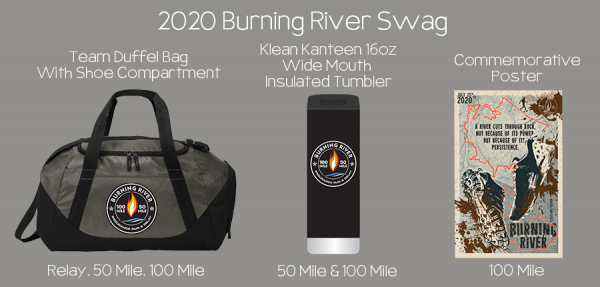 Looking for something for your crew, pacer, or a few more keepsakes?  Check out the gear store.
AWARDS
100, 50M and 50M Back Half – 1st-5th Overall Male and Female, then top 1 in the following 10 year age groups: 0-29, 30-39, 40-49, 50-59, 60+
100, 50M and 50M Back Half – Top M&F receive free entry to the following year's race.
Relay – 4 Person Relay Awards for Top 1 Men's Teams, Women's Teams, and Co-Ed* Teams, 8 Person Relay Awards for Top 1 Men's Team, Top 1 Women's Team and Top 5 Co-Ed Teams.  *Female participants must run at least 25% of the segments to be considered for Co-Ed awards.
PACKET PICKUP

Saturday, August 15th through Friday, August 21st,  12:00-8:00 p.m.
Race Headquarters
1727 Front St., Cuyahoga Falls, OH 44221
REFUND POLICY
Information on refunds, deferrals, and bib transfers can be found on our Refund Policy page.
WHAT OUR PARKS SAY
(comments will scroll)
CUYAHOGA VALLEY NATIONAL PARK - Cuyahoga Valley National Park has and will continue to play an integral role in the river's recovery. CVNP is working alongside the entire region to change the narrative about the Cuyahoga River. In order to make progress in improving the health of the watershed, the park is embarking on a number of restoration projects in 2019. One impact of these projects will be on the parks permit program. Because of the number of projects occurring that could result in temporary closures of the Ohio & Erie Canal Towpath Trail the park will not be issuing permits in areas likely to be greatly impacted by a trail closure. In the coming weeks the park will be releasing more information about specific projects and the positive impacts these will have on the health of the river.
CLEVELAND METROPARKS - Cleveland Metroparks has enjoyed a long partnership with the Burning River 100 and looks forward to continuing it when the race returns to our reservations.
SUMMIT METRO PARKS - This race has so many great benefits for northeast Ohio – for runners, for parks, and as a way to feature the area's exceptional trails. Summit Metro Parks, which manages more than 20 miles of the Towpath Trail, is happy to welcome the runners again this year and join in celebrating the renewal of the Cuyahoga River.
CITY OF STOW, PARKS AND RECREATION - The City of Stow, Parks and Recreation is happy to host the 50 mile aid station for the 2019 Burning River Endurance Runs and Relay at our Silver Springs Park! As a regular relay team participant and captain, I look forward to this event every year – it is my favorite race! Burning River is a premiere event with an unbelievable cast of characters. I am in awe of all of the volunteers, participants and organizers. This event represents just how cohesive, unified and talented the trail running community is in our region and beyond.
FROM THE RDs & RACE COMMITTEE
We respect and understand the importance of this race to our community. We look forward each year to our community, and those traveling in from other states and countries, celebrating what we call our "backyard" (Cleveland Metroparks, Cuyahoga Valley National Park, Summit Metro Parks). While we are disappointed that the race will not be a point to point this year, we also respect and understand the importance of working together with our park systems to meet the needs of everyone involved. The river valley provides us our backyard, and the backbone of this is the Cuyahoga River, our beloved "Burning River. We celebrate the comeback of the Cuyahoga River and be thankful for the additional efforts underway to continue the recovery/restoration. We would like to thank our park systems, the City of Stow, and our community for supporting us with these required course adjustments.
We're 100% committed to providing you with a top-notch race experience from registration to the finish line. If you have any questions at all send us a message and allow us the opportunity to assist you.
Thank you for running with Western Reserve Racing.  We appreciate you!