The Dirty Trail Series, presented by Salomon, is a short trail running race series for Northeast Ohio. The series features races in the best parks across the region.
BECOME A DIRTY VIP MEMBER
Purchase a Dirty Trail Series VIP Membership and receive the following benefits:
Entry to all 9 2020 DTS events valued at over $400
An additional entry to Muddy Paws 2 Mile Dog Run (not scored for the series, no dog necessary to participate).
An exclusive Dirty VIP piece of high quality swag.
2020 VIP swag will be an Ogio Endurance Nexus 1/4 Zip Pullover in your choice of colors.
Custom VIP bibs with your choice of personalization.
An invitation to the year-end series award party including lunch and a raffle ticket for each race you run.
Membership without individual race swag – $255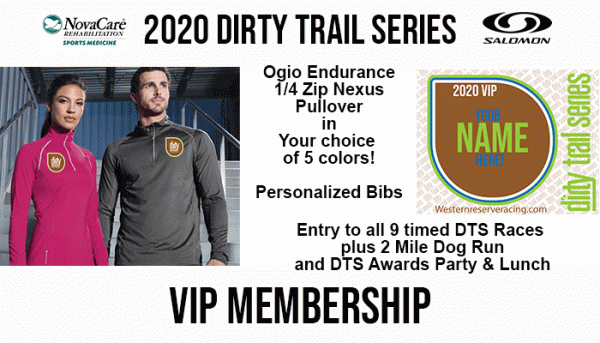 This includes VIP Salomon swag but NOT the advertised swag for each individual race.
Membership including individual race swag – $325
This includes VIP Salomon swag AND the advertised swag for each individual race.
2020 DIRTY TRAIL SERIES LINEUP
You can view details about each race included in the series by clicking on the race name below.
SERIES PARTICIPATION
Participating in a minimum of five events will automatically enter you in the series. You will receive an invitation to celebrate with us at the Dirty Party, be eligible for series awards, and receive one raffle ticket for every race you ran.
SERIES SCORING AND AWARDS
Each race (except the Dirty Snowflake Prediction Run), as well as the overall series, will have the following awards for male and female: Top 3 overall male and female, then 1st place in the following 5-year age groups: 14 and under, 15-19, 20-24, 25-29, 30-34, 35-39, 40-44, 45-49, 50-54, 55-59, 60-64, 65-69, 70-74, and 75+. Overall winners will not be eligible for age group awards (i.e., no double-dipping).
2020 Scoring Details Coming Soon!
DIRTY AWARDS PARTY
Come out and celebrate the year in trail racing with free food, drinks, an awards ceremony, and a raffle like no other! This fun event takes place after the final race, Dirty Dirty 15k, in the River Grove shelter at North Chagrin Reservation in the Cleveland Metroparks.
SERIES STANDINGS