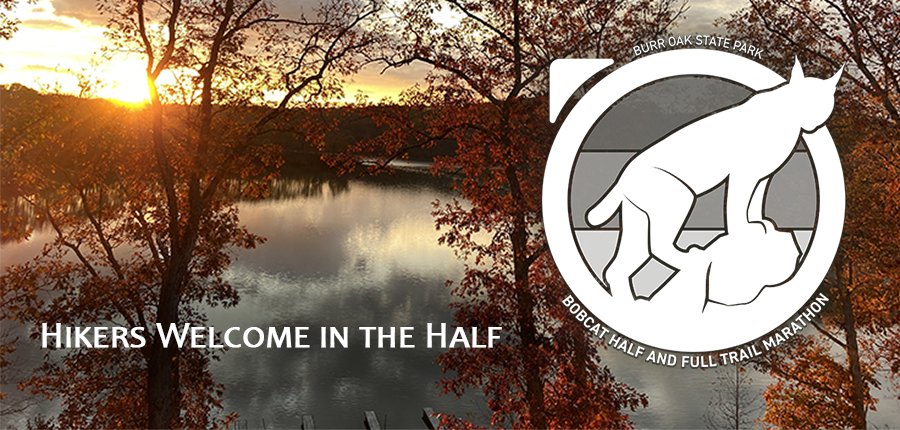 Sat, November 12, 2022
Burr Oak State Park
Part of the Ohio Endurance Series
Hikers Welcome in the Half Marathon!
THE BOBCAT TRAIL MARATHON is a single loop course with rolling hills and several creek crossings, entirely within Burr Oak State Park. You will explore hiking and bridle trails as well as portions of the Buckeye Trail. The course is approximately 90% trail and 10% asphalt, and it will be well-marked. This marathon will challenge you.
HALF MARATHON will be a point to point on the same trails as the Marathon. Hikers welcome!
LODGING Burr Oak Lodge offers great rooms at reasonable prices and features a restaurant, indoor pool, and plenty of outdoor activities. We've reserved the entire property, but rooms at the lodge typically sell out. To get the special race discount, you must call the reservation line at 740-787-2112 and ask for the Bobcat Marathon room block (you will not receive this discount if you book online); two night minimum stay required. Click here for other Bobcat Marathon lodging options.
PARKING AND TRANSPORTATION The start of the half marathon is at the Dock 4 Marina located at 5250 Beach Rd in Glouster, about a 25 minute drive from the lodge.  Half marathon runners should park (or be dropped off) at the Marina (plenty of parking). You can take the lodge shuttle back to the Marina after you finish but note that there can be up to a 1-2 hour wait.  You may want to pack a drop bag (with a change of clothes) for the finish line. Runners staying overnight at the lodge may take the lodge shuttle in the morning to the start of the race.  The shuttle will leave at 7:45 AM from the front of the lodge. Marathon runners will start and finish at the Lodge and will not require transportation.
Bobcat Trail Race
Marathon
Half Marathon
Early Registration
through October 12
$80
$65
Regular Registration
October 13 – November 1
$85
$70
Late Registration
November 2-12
$90
$75
Distance
26.2 miles
13.1 miles
Hikers welcome!
Course Map
2021 Course Map

Elevation Gain = 3,936 ft

2021 Course Map

Elevation Gain = 2,356 ft

Aid Stations
Miles 3.8, 7, 9.8, 13, 18.3, and 21

Aid stations will stock sports drink, gels, water, pop, and miscellaneous snacks. All participants are encouraged to carry a water bottle.

Miles 5.3 and 8

Aid stations will stock sports drink, gels, water, pop, and miscellaneous snacks. All participants are encouraged to carry a water bottle.

Start Time
8:00 A.M.
8:30 A.M.
Cutoff Time
8 Hours
7-1/2 Hours
Swag
Choose from two swag package options:

Ohio Endurance Series full zip jacket, race sticker, and finisher medal
Bobcat long sleeve tech tee, race sticker, and finisher medal

Packet Pickup
Friday 6:00-8:00 P.M. at Burr Oak Lodge

Race day 7:00-8:00 A.M. at Burr Oak Lodge

Friday 6:00-8:00 P.M. at Burr Oak Lodge

Race day 7:30-8:30 A.M. at Shelter House at Dock Area 4

Race Location
Burr Oak Lodge
10220 Burr Oak Lodge Rd
Glouster, Ohio 45732
Shelter House at Dock Area 4
5250 Beach Rd
Glouster, OH 45732
Awards
Top 3 Overall Male and Female; Top 1 Master Male and Female; Top 1 Grand Master Male and Female; and Top 1 Male and Female in each of the following age groups: 24 and under, 25-29, 30-34, 35-39, 40-44, 45-49, 50-54, 55-59, 60-64, 65-69, and 70+ (32 awards total)

Top Male and Female receive free entry to the following year's race

Top 3 Overall Male and Female; Top 1 Master Male and Female; Top 1 Grand Master Male and Female; and Top 1 Male and Female in each of the following age groups: 24 and under, 25-29, 30-34, 35-39, 40-44, 45-49, 50-54, 55-59, 60-64, 65-69, and 70+ (32 awards total)
Policies
View our policies on refunds, deferrals, swag, and more
Archived Results
2016 Results
2015 Results
2014 Results
2013 Results