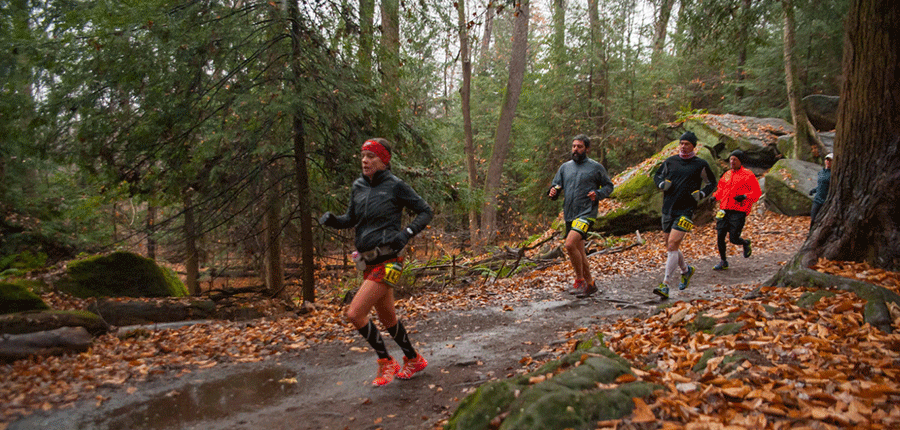 Saturday, November 7th 2020, 8:00 a.m.
Burr Oak State Park Lodge
Part of the Ohio Endurance Series
Note: The 2020 event has been canceled, and all participants have been emailed with instructions. Looking for an alternative? We've been approved and registration is open for Leave No Trace Marathon & Half Marathon at Camp Manatoc on November 7th!
THE BOBCAT TRAIL MARATHON is a single loop course with rolling hills and several creek crossings, entirely within Burr Oak State Park. You will explore hiking and bridle trails as well as portions of the Buckeye Trail. The course is approximately 90% trail and 10% asphalt, and it will be well-marked. This marathon will challenge you.
HALF MARATHON distance will be on the same trails as the Marathon – check out the point-to-point course map below. Hikers are welcome in the Bobcat Half Marathon! You love hiking – why not try a supported 13-mile hike? With a generous 7.5 hour cut off time, hikers can enjoy the course at their own pace.
Aid stations will stock water, soda, Hammer HEED, Gels, and Endurolytes, chips, pretzels, cookies, PB&J, pickles, bananas, and other misc. items. All participants are strongly encouraged to carry a water bottle.
LODGING Have your family tag along for an awesome Ohio stay-cation! Burr Oak Lodge offers great rooms at reasonable prices. With a restaurant, indoor pool, and plenty of outdoor activities, there is something for your whole crew! We've reserved the entire property, but rooms at the lodge are still extremely limited. Call the lodge (740-767-2112) and ask for the Bobcat Marathon room block.
ADDITIONAL LODGING OPTIONS 2019 Bobcat Additional Lodging
HALF MARATHON TRANSPORTATION Please park at the Shelter House at Dock Area 4 start line, address in the table below. Shuttle buses will take finishers back to Dock Area 4 from the finish line starting at 10:30 a.m. The shuttle buses will run every half hour as needed until 2:00 p.m. Half Marathon participants staying at the lodge may take the free shuttle to the start line beginning at 7:00 a.m. Last shuttle leaves at 8:00 a.m.
Bobcat Trail Race
Marathon
Half Marathon
Registration through October 1
$85
$65
Registration October 2-31
$95
$75
Registration November 1-7
$110
$85
Distance
26.2 miles
13.1 miles
(Hikers welcome!)
Course Map
2019 Marathon course
2019 Half Marathon course
Cut Off Time
4:00 P.M. (8 hours)
4:00 P.M. (7.5 hours)
Aid Stations
Miles 3.8, 7 (water only), 9.8, 13, 18.3, and 21
Miles 5.3 and 8
Swag
Finisher's medal, car sticker, and something awesome is in the works!*
Start Time
8:00 A.M.
8:30 A.M.
Start Location
Burr Oak Lodge
10220 Burr Oak Lodge Rd
Glouster, Ohio 45732
Shelter House at Dock Area 4
5250 Beach Rd
Glouster, OH 45732
Early Packet Pickup
Friday, 6-8:00 P.M., Burr Oak Lodge
Packet Pickup
Race day, 7-8:00 A.M.
Burr Oak Lodge
Race day, 7:30-8:30 A.M.
Shelter House at Dock Area 4
Awards
Top 3 overall male and female, then top 3 in the following age groups: 29 and under, 30-39, 40-49, 50-59, 60+ (36 awards total);
Top male and female receive free entry to the following year's race
Top 3 overall male and female, then top 3 in the following age groups: 29 and under, 30-39, 40-49, 50-59, 60+ (36 awards total)
Facebook Event
For the latest information, follow the Bobcat Facebook Event Page
Refund Policy
View Refund Policy
Other Policies
View Other Policies – Dogs, Strollers, Disqualifications, Age Requirements, etc.
*Participants who sign up during early/regular registration are guaranteed the advertised swag in their chosen size. Participants who sign up within two weeks of race day may be offered an alternative swag item.
Archived Results
2016 Results
2015 Results
2014 Results
2013 Results