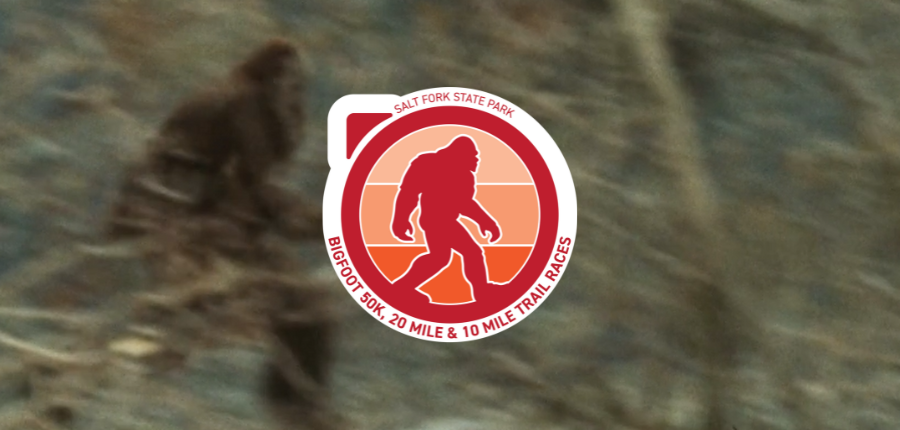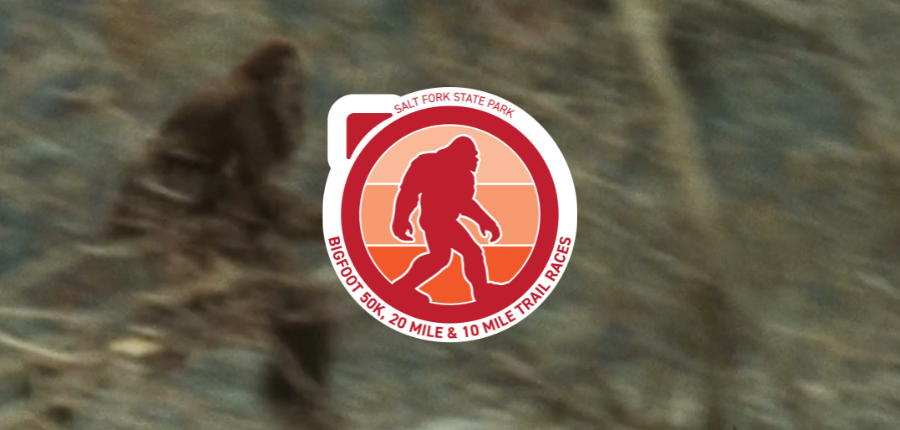 Sat, December 9, 2023
Sun, December 10, 2023
Salt Fork State Park
50k, 20 & 10 Mile Trail Race
Part of the Ohio Endurance Series – Hikers welcome in the 10 miler!
DESCRIPTION
One of the largest trail races in the tri-state area! Join over 800 people, make new friends, and see why everyone loves this adventure. If you spot Bigfoot, don't forget to give him a hug!
COURSE
The well marked route is a 10.4 mile loop course with rolling hills on hiking and bridle trails, entirely within Salt Fork State Park. The course is marked with pink blazes, permanent wooden signs, and is known for eating trail shoes! 50k participants will run a total of three loops for over 4,000′ of elevation gain. 20 milers will run two loops, and 10 milers will complete one. Saturday includes 50k, 20 mile, and 10 mile distances; Sunday features a 10 mile event. Awards will be given for all events. Cutoff times: 50k & 20 mile – 8.5 hours; Saturday 10 mile – 8.25 hours; Sunday 10 mile – 5 hours.
For an extra challenge, participate on Saturday AND Sunday and get 50% off the Sunday 10 mile event.
LODGING
Stay right at the start/finish line – reserve your room at Salt Fork Lodge! To get the special race discount, you must call the reservation line at 740-435-9000 to book under the Western Reserve Racing Bigfoot race block. You will not receive the discount if you book online. A deposit is due at the time the reservation is made, and the deposit is fully refundable up to 72 hours prior to arrival.
DONATIONS
Donations benefit Guernsey County Sheriff's Mounted Search and Rescue.
SWAG OPTIONS
Bigfoot Long Sleeve Tech Tee (women's or unisex)
Bigfoot Triblend Tee (unisex)
Ohio Endurance Series Lightweight Quarter Zip (unisex) – $10 premium
AWARDS
Awards for each event:
Top 3 Overall Male and Female
Top 3 Male and Female in the following 5-year age groups:
29 & Under, 30-34, 35-39, 40-44, 45-49, 50-54, 55-59, 60-64, 65-69, and 70 & Over
ENDURANCE ATHLETES OF THE YEAR
Participate in 4 events to qualify and have a chance to be an Ohio Endurance Athlete of the Year! Qualifiers receive a trading card with your photo and Ohio Endurance Series race stats. Awards will be given for the Top 5 Overall, Top 1 Masters, Top 1 Grand Master.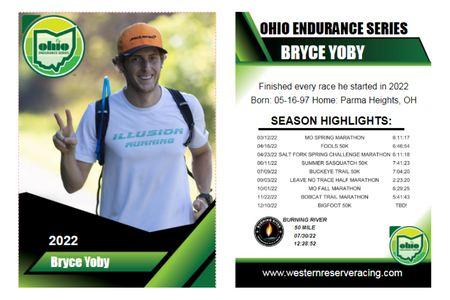 REGISTRATION
Early Registration (through November 9)

50k – $85
20 mile – $70
10 mile – $45

Regular Registration (November 10-29)

50k – $90
20 mile – $75
10 mile – $50

Late Registration (November 30 – December 10)

50k – $95
20 mile – $80
10 mile – $55
RACE DAY DETAILS
Start Time:

Saturday 50k & 20 mile – 8:30 A.M. (8.5 hour cutoff)
Saturday 10 mile – 8:45 A.M. (8.25 hour cutoff)
Sunday 10 mile – 9:00 A.M. (5 hour cutoff)

Aid Stations (located at start/finish and mile 6 of each 10 mile loop) will be fully stocked with water, sports drink, gels, pop, and electrolytes, as well as a variety of sweet and salty snacks. An additional food item will be served at the finish line. All participants are encouraged to carry water.
Drop Bags: Participants may have a drop bag that is accessible at the completion of each 10 mile loop. Mark your drop bag with your name and bib number and bring it to the start of the race.
MORE INFORMATION
Bigfoot 50k, 20 & 10 Miler is part of the Ohio Endurance Series, featuring fully supported trail races of varying distance and difficulty in the best parks throughout Ohio.
ARCHIVED RESULTS

2016 50k Results, 2016 10M Results
2015 50k Results, 2015 10M Results
2014 50k Results, 2014 10M Results
2013 50k Results, 2013 10M Results