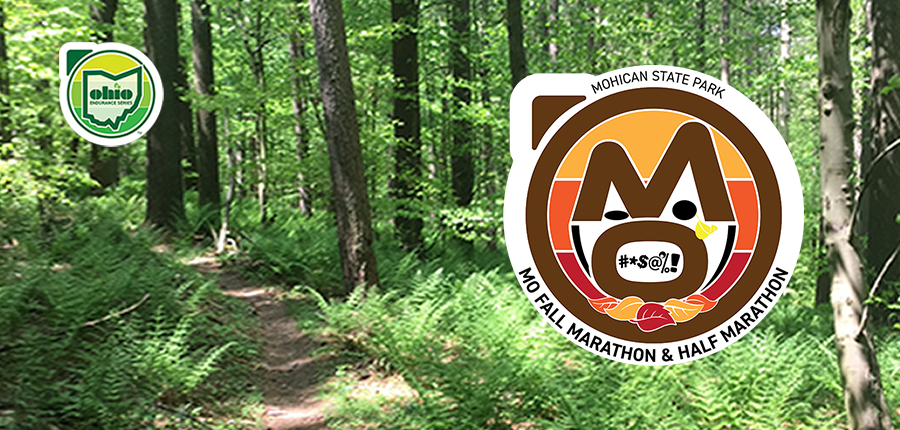 Sat, October 7, 2023
Mohican State Park
Trail Marathon & Half Marathon
Part of the Ohio Endurance Series – Hikers Welcome in the Half Marathon!
DESCRIPTION
At the Mo Fall Marathon and Half Marathon, the vibrant hues of fall foliage merge with the challenge of rugged trails, making it a must-attend event for runners, hikers, and even four-legged friends! Mohican State Park's varied landscape promises an unforgettable experience for both new and experienced participants. The harmonious blend of rugged trails, gentle slopes, and occasionally demanding ascents offers a dynamic and diverse course. Whether you're a newcomer looking to build endurance or a seasoned adventurer in search of a new challenge, Mo will deliver!
A lush forest of deciduous and evergreen trees forms a canopy overhead. Ferns, mosses, and woodland plants are woven into a thick carpet below. Numerous streams add to the ecological richness and provide habitats for a variety of wildlife. This maze of natural wonders surrounds you with a sense of seclusion, creating the perfect environment for you to experience Mohican's trails. Lace up your shoes, leash your pup, and get ready to embrace the colors and challenges that define the Mo Fall Marathon and Half Marathon!
COURSE
The course is a 13.1-mile loop that begins and ends at the historic Mohican Lodge. Along the way, you'll encounter some of the park's most famous landmarks, including Lyons Falls, where the rushing waters create a soothing soundtrack for your journey. Your path will also take you across the iconic covered bridge, a symbol of Mohican State Park's timeless charm. Marathoners will experience over 4000 feet of elevation gain (2000 for the Half).
Click here to view the Marathon course map
Click here to view the Half Marathon course map
LODGING
Wake up at the start line! To get a special discounted rate at Mohican Lodge, call the reservation line at 419-938-5411 to book your room under the Western Reserve Racing Mo Fall Marathon room block (you will not receive the discount if you book online). A deposit is due at the time the reservation is made, and the deposit is fully refundable up to 72 hours prior to arrival.
DONATIONS
Donations benefit Mohican Area Growth Foundation.
SWAG OPTIONS
Mo Short Sleeve Tech Tee (women's or unisex)
Mo Triblend Tee (unisex)
Ohio Endurance Series Lightweight Quarter Zip (unisex) – $10 premium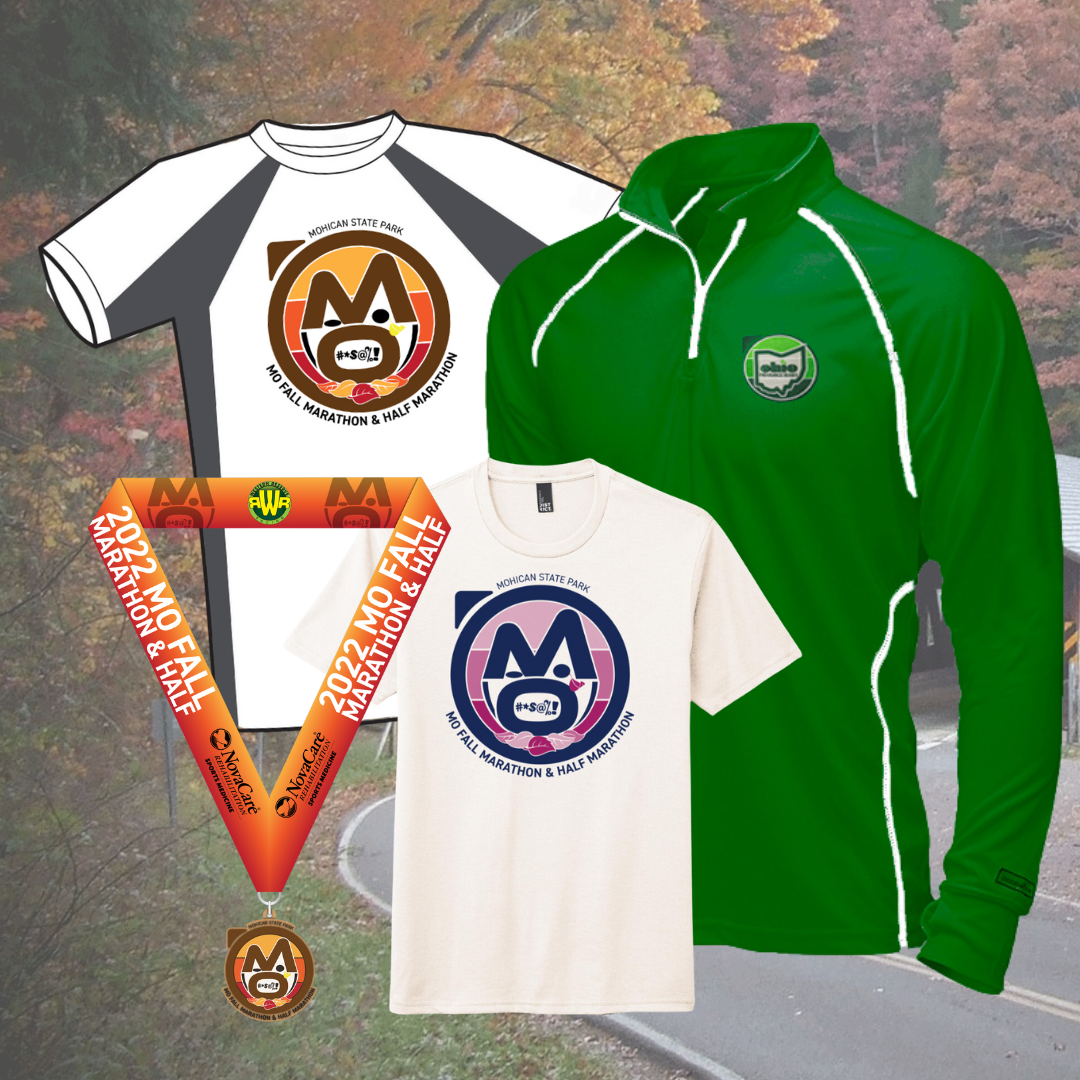 AWARDS
Awards for each event:
Top 3 Overall Male and Female
Top 3 Male and Female in the following 5-year age groups:
29 & Under, 30-34, 35-39, 40-44, 45-49, 50-54, 55-59, 60-64, 65-69, and 70 & Over
ENDURANCE ATHLETES OF THE YEAR
Participate in 4 events to qualify and have a chance to be an Ohio Endurance Athlete of the Year! Qualifiers receive a trading card with your photo and Ohio Endurance Series race stats. Awards will be given for the Top 5 Overall, Top 1 Masters, Top 1 Grand Master.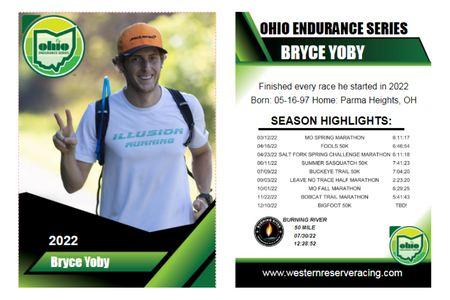 REGISTRATION
EARLY REGISTRATION (through September 6)

Marathon – $75
Half Marathon – $65

REGULAR REGISTRATION (September 7-26)

Marathon – $85
Half Marathon – $70

LATE REGISTRATION (September 27 – October 7)

Marathon – $90
Half Marathon – $75
RACE DAY DETAILS
START TIME: 8:00 A.M. (8 hour cutoff)
PACKET PICKUP

Location: Mohican Lodge (the Aerie Room)
Friday: 6:00-8:00 P.M.
Saturday: 6:30-8:00 A.M.
AID STATIONS located at start/finish and covered bridge (miles 4, 8, 13, 17, 21, 26) will be fully stocked with water, sports drink, gels, pop, and electrolytes, as well as a variety of sweet and salty snacks such as pickles, chips, and cookies. An additional food item will be served at the finish line. All participants are strongly encouraged to carry water.
DROP BAGS: Marathon participants may have a drop bag that can be accessed at the completion of each loop (miles 13.1 and 26.2). Mark your drop bag with your name and bib number and bring it to the start of the race.
MORE INFORMATION
Mo Fall Marathon & Half Marathon is part of the Ohio Endurance Series, featuring fully supported trail races of varying distance and difficulty in the best parks throughout Ohio.