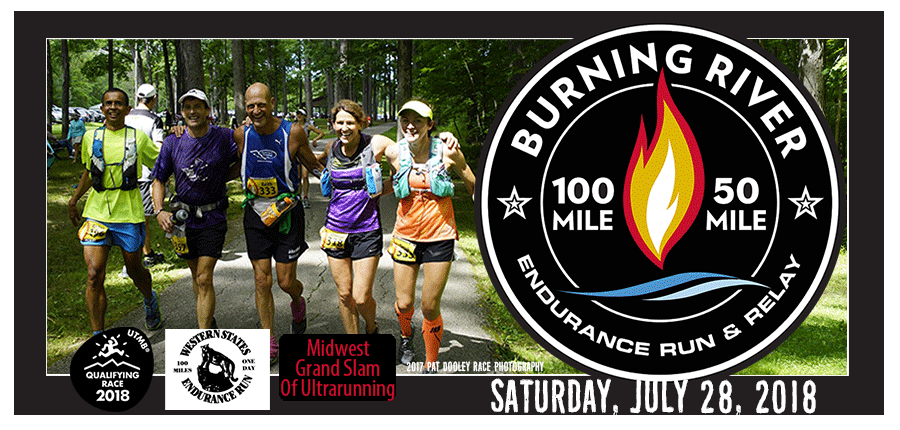 Burning River Endurance Runs & Relay


Saturday, July 28th, 4:00 am

, Squires Castle
Burning River is just 5 months away! And here are 5 reasons why you NEED to run it…
1 Because it is a really freaking good time!
Trail adventures under the stars, castles, waterfalls, stairs that will have you cursing under your breath and new friends who will make you laugh out loud, the most wonderful kind of tired, and the best tasting fill-in-the-blank you've ever eaten at 
3:18
 in the morning.
2 Because you are lucky enough to have legs that will take you as far as you dare to go.
3 Because Ohio loves a good underdog.
4 Because those old flames left our Cuyahoga Valley a brighter place. A place you really should see — scratch that — feel.
5 Because you can.
So now that you're saying "yes," or at least "maybe," here's a refresher on the details…
Burning River offers 100M, 50M, and Back Half solo options, and a 4- and 8-person relay. This beautiful course follows the scenic Cuyahoga River Valley Corridor from Cleveland to Cuyahoga Falls, where you can 
book your suite
 at the Sheraton, and stay just steps away from the finish line. You'll collect great swag and a distance-specific finisher medal
,
perhaps even the coveted 100-mile buckle. Northeast Ohio's finest aid station volunteers will be serving up the best aid station snacks, and your crew and fans will be able to cheer you on with RaceJoy's live GPS tracking app. Want a sneak preview? Join us for a free training run, or two, or nine … dates TBA soon!