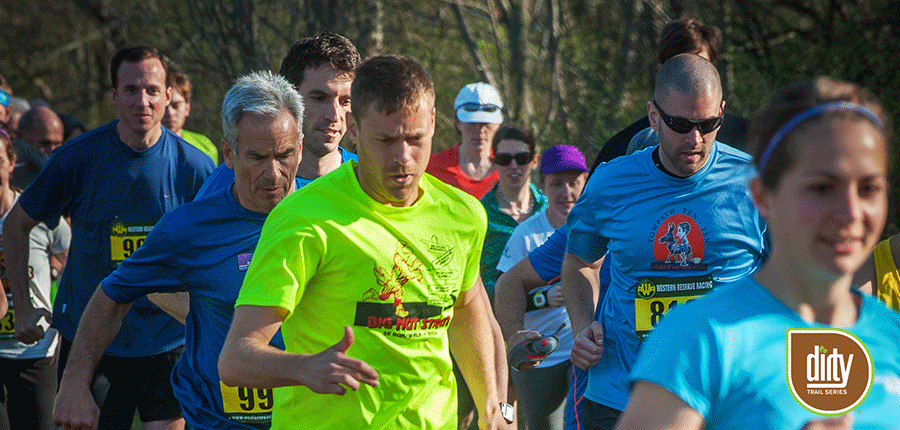 Saturday, September 26th, 2020, 9:00 a.m.
Oak Hill Trail Head
Part of the Dirty Trail Series presented by Salomon
RACE HAS BEEN APPROVED FOR IN-PERSON RACING!  See our COVID-19 Guidelines for more information.
The Flirt with Dirt takes place at the Oak Hill Trail System of the CVNP. Oak Hill is a favorite of trail runners due to the diversity of terrain. The 10k course starts off fast as you run down into the valley on rooted trails filled with twists and turns. Then, you get to switch gears and climb a long hill on an old drive before it flattens back out.
Flirt With Dirt
Details
Registration through September 16
$35
Registration September 17-26
$40
Distance
10k
Course Map
Course Map
Cut Off Time
None
Swag
Feetures Elite, light cushion, quarter socks
Start Time
9:00 A.M.
Packet Pickup
Vertical Runner Hudson or Brecksville the week prior to race date (Saturday-Friday) during store hours.
Limited race day packet pickup
Location
Oak Hill Trailhead, 3901 Oak Hill Road, Boston Township, Ohio 44264
Awards
Top 3 overall male and female, then 1st place in the following 5-year age groups: 15-19, 20-24, 25-29, 30-34, 35-39, 40-44, 45-49, 50-54, 55-59, 60-64, 65-69, 70-74 and 75+
Facebook Event
For the latest information, follow the Flirt with Dirt Facebook Event Page
Refund Policy
View Refund Policy
Other Policies

View Other Policies

 – Dogs, Strollers, Age Requirement's, etc.
*Participants who sign up during early/regular registration are guaranteed the advertised swag in their chosen size. Participants who sign up within two weeks of race day may be offered an alternative swag item.
Archived Results
2016 Results
2015 Results
2014 Results
2013 Results