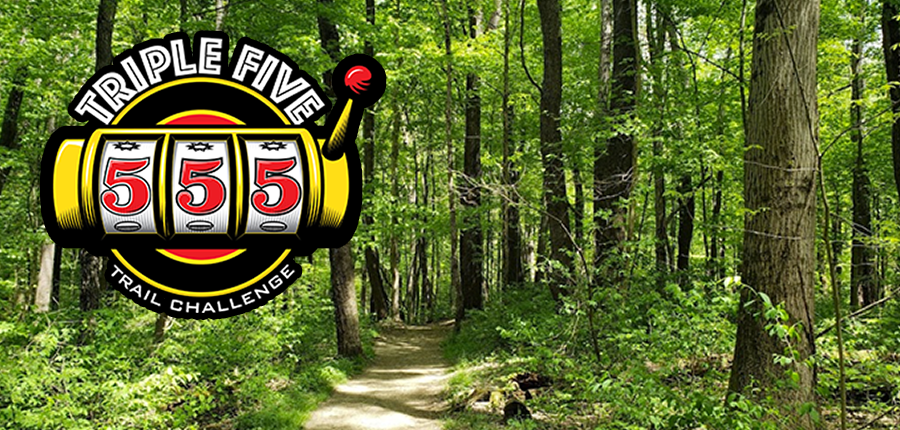 Tues, May 10, 2022
Tues, May 17, 2022
Tues, May 24, 2022
Maple Beach Shelter, Munroe Falls Metro Park
The Triple 5 Trail Series returns with a new spin for 2022. Three races will be held on Tuesday evenings during the month of May. Each will be a 5 mile course at Munroe Falls Metro Park. The park's well groomed trails are perfect for beginners as well as seasoned runners. Improve your finish time at the 2nd and 3rd races and you hit the jackpot!
SERIES SCORING: The first two races are scored by overall placement by gender. Top person in each gender earns 50 points, second place earns 49 points, and there is a minimum of one point earned per race. After the second race, you will earn 50% point bonus if you earn more points than you did after the first race (example: 40 – Race One, 46 – Race Two = 6 x 50% = 3 bonus points). The third race will be age-graded scoring. You will earn an age graded score (a percentage) and overall placements by gender will be determined by this score. As with the first two races, 50 points will be awarded to first, 49 points to second, and there is a minimum of one point earned.
AGE GRADING EXPLAINED: Age grading uses tables of "age factors" and "age standards" to put all runners, regardless of age and sex, on a level playing field. In particular, they allow runners' performances, no matter what their age, to be corrected to what they would have been achieving in their prime years, and permit valid comparisons to be made between people of different ages.
100% = World record level
90% = World class
80% = National class
70% = Regional class
0% = An Athlete
SWAG: Series participants will receive a super sweet Triple 5 hoodie, plus a Triple 5 pint glass at race #1, and one of four glass tumblers featuring a local park landmark at race #2 and #3. Can't do the whole series? Individual race registration is available and you receive a pint glass (race #1) or tumbler (race #2 or #3) as your swag.
Donations benefit the Summit Metro Parks Foundation.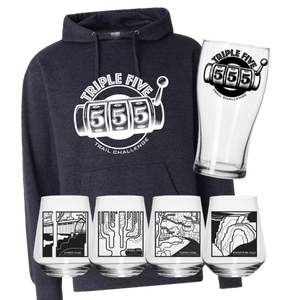 Triple 5 Trail Series
Triple 5 #1
Triple 5 #2
Triple 5 #3
Series Registration
Early registration through April 9: $90
Regular registration April 10-29: $100
Late registration April 30 – May 10: $110
Series registration includes hoodie plus pint glass and two glass tumblers
Regular Registration
through April 29: $30
through May 6: $30
through May 13: $30
Late Registration
April 30 – May 10: $35
May 7-17: $35
May 14-24: $35
Distance
5 miles
Course Map
2022 Course Map #1
2022 Course Map #2
2022 Course Map #3
Aid Stations
Water stops on course
Start Time
6:15 P.M.
Cutoff Time
None; walkers & hikers welcome
Swag
Series registrants receive a Triple 5 hoodie, plus a pint glass at race #1 and a tumbler at race #2 and #3.

Registrants for individual races receive a pint glass (race #1) or tumbler (race #2 or #3).

Packet Pickup
Race day at Munroe Falls Metro Park beginning at 5:00 P.M.
Race Location
Munroe Falls Metro Park, Maple Beach Shelter, 521 S River Rd, Munroe Falls, OH 44262
Awards

Each race will include raffle prizes for randomly selected bib numbers.

Series awards: Top 3 Overall Male and Female, and Top 3 Male and Female in the following age groups: 29 & Under, 30-39, 40-49, 50-59, 60-69, and 70 & Over (42 awards total).

Policy
View our policies on refunds, deferrals, swag, and more