Growing up in the snow belt, nothing beat the sweet satisfaction of going back to bed on a snow day.  I'd turn off the alarm, crawl back in bed, and snuggle under an extra blanket, thanking Dick Goddard and el niño for the gift of idleness on a stingingly cold, wintry day.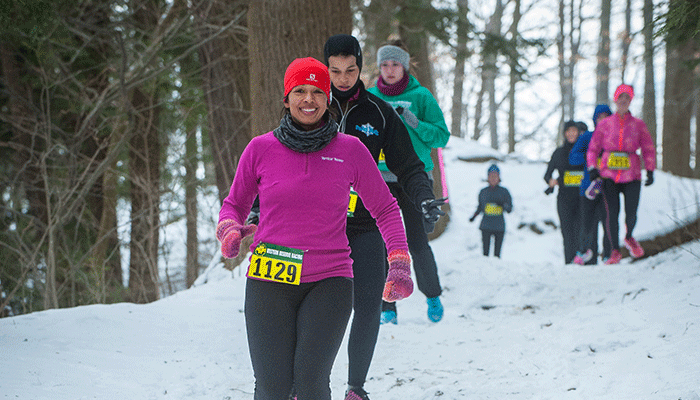 Now that winter has finally arrived in northeast Ohio, low temps, slushy roads, and lake effect snow may tempt you to turn off the alarm, crawl back in bed, snuggle under an extra blanket, and give yourself your own snow day.  But spring is coming (eventually!), and so is that goal race you're working towards.  Runners don't get snow days, so here's how to bury the excuses.
Excuse 1: It's too cold.
It's supposed to be cold; it's winter!  When the temperature drops, layering is key, and cotton is rotten.  A good quality pair of fleece tights, a wicking base layer, a thermal long sleeve, and a  windproof, vented shell should keep you moving on even the coldest of days.  Vince Rucci reminds us, "Always dress knowing that you are going to heat up once you get started.  For runners, this change can be anywhere from 10-15 degrees, and for walkers it can be anywhere from 5-10…finding your threshold for the cold is essential."
You Use:
"My Brooks vest.  Great to wear over my jacket.  Breaks the wind chill." – Mike S.
"My Mountain Hardwear fleece-lined running jacket, it has a hood and extra long sleeves with thumb holes…" – Tonya Y.
Excuse 2: My feet and hands freeze.
Socks and gloves are without a doubt the most important winter running accessories.  Wool socks keep your feet warm and insulated, even after your running BFF drags you across a nearly-frozen creek…twice.  Try out different gloves, from throw-away dollar store cheapies to battery-operated heated mittens, to find out what works best for you.
You Use:
"The pair of Swiftwick wool socks VR OH set me up with last year.  Fighting frostbite, degree by degree." – Lauren P.
"Thick Smartwool socks over a pair of thin Smartwool socks and Saucony Ulti-Mitt gloves." – Kelli S.
"My gloves.  They are black and I use them on my hands to keep them warm while I run outside in the cold weather." – Michael M.
Excuse 3: I can't breathe.
If your lungs scream at the dry, frozen air, consider wearing a buff, neck gaiter, or balaclava to "prewarm" the air you breathe.  As an added bonus, it will also keep your neck nice and toasty.  If you're like me and asthma takes your breath away, don't forget to grab your rescue inhaler on your way out the door.
You use:
"Fleece Buff, versatile and toasty." – Shelly S.
"SmartWool neck gaiter." – Lori M.
Excuse 4: I'm afraid of falling.
Your regular trail shoes might work for the winter, but if you find yourself wanting more traction or a waterproof membrane, there are shoes made especially for nasty trail conditions, like the metal-spiked Salomon Spikecross, the Inov-8 X-Talon, or the Brooks Ghosts GTX.  If you're looking for even more stability on the trails or roads, consider trying YakTrax or NANOspikes (basically snow tires for your feet) or screwing your shoes (ha!) with hex-head metal screws, which can make even the Apolo Ohno-worthy paths of Fools manageable.
You Use:
"I bought NANOspikes from Vertical Runner and love them." – Debi C.
"YakTrax are good for snowy and icy conditions.  The screws are a low-cost method that can work almost as well." – Michael F.
Excuse 5: It's too dark.
We're losing precious minutes of daylight every afternoon, and with the sun setting before 5:30, running in natural light is the exception.  See and be seen with a headlamp, flashlight, and reflective accessories. And if you're easily spooked in the dark, run with a reasonable friend who can convince you those aren't mountain lion prints…or black bear droppings…or the howls of a rabid coyote.
You use:
"I prefer lower lumens…too bright and you can't see anything but what is in the light's field of view." – Jim
"Petzl Tikka RXP.  Very stable, very comfortable, USB rechargeable, includes some "smart" features, very bright, multiple brightness options." – Jude T.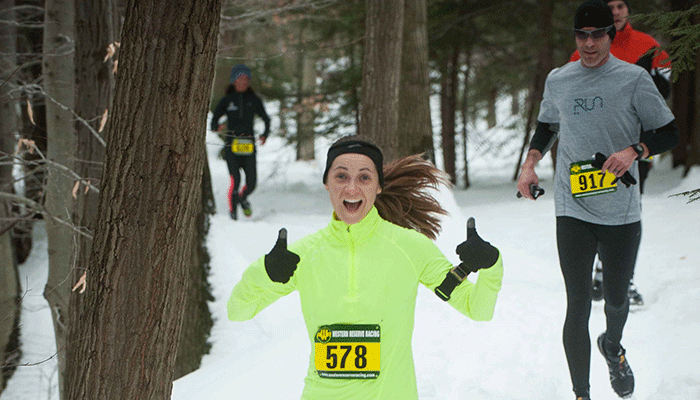 When Old Man Winter turns the snow machine to eleven, resist the urge to hibernate.  Gear up, grab a friend, and hit the trails.  Because you can blame the weather on the polar vortex, Punxsutawney Phil, or – my personal favorite – Canada, but only you are responsible for getting yourself out of bed and out the door.
"No matter how cold, wet, dark, or icy it is outside, running or walking is always the same.  Just put one foot in front of the other and keep moving."  – Vince Rucci
It's only cold if you're standing still.