For each Dirty Trail Race this year, starting with the Dirty Snowflake in January, we will be highlighting different  trail etiquette tips to make trail races safer and more enjoyable for all and to better protect the trails we run on and their surroundings.  Whether you are new to the sport or an old pro, check out and share these useful tips!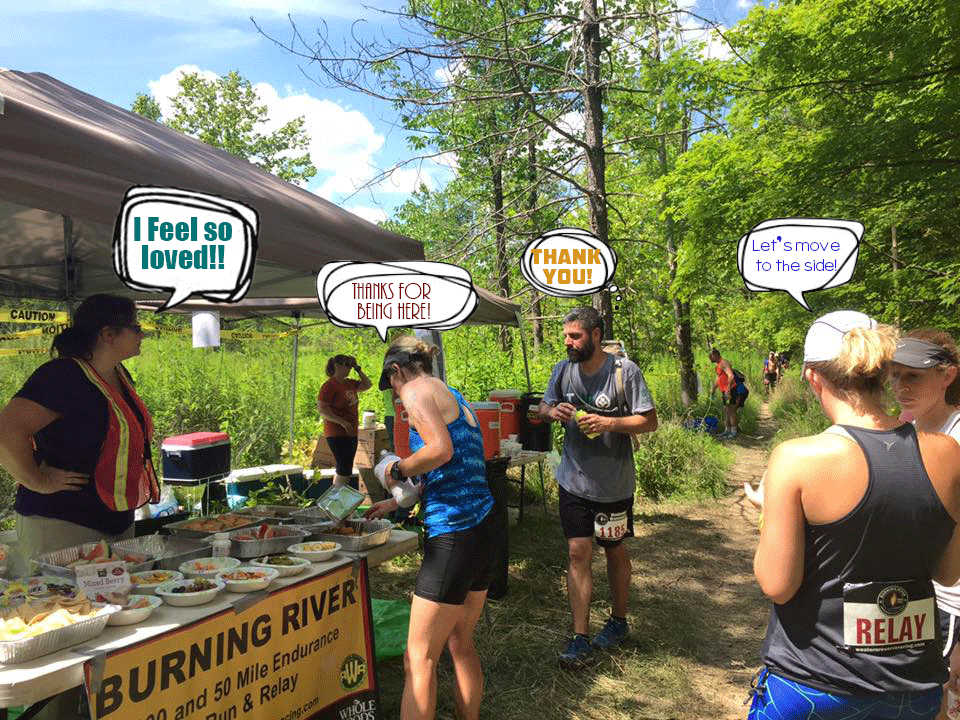 TRAIL ETIQUETTE – AID STATION ETIQUETTE
Most trail races have one or more aid stations on the course.  These may vary from simple water stops at shorter races to full-on buffets with a variety of foods and drinks at longer races. Here are several tips to consider when you're at an aid station during a race.
Before You Run
Consider running with your own water bottle.  You'll be able to carry your drink after you've left the aid station and will reduce the amount of garbage at the event by not using cups at the station.
Familiarize yourself with the aid station location(s). That way you'll know how far you'll be running between aid stations and water bottle fill ups.
Let your family and crew members know that aid station food and drink are for runners only. This ensures that the last finishers get the same selection as the first ones.
Help Yourself
At most races volunteers are willing to help you fill your water bottle, hand you a paper towel, or give you information about the upcoming section of the course. However, runners often come into an aid station in groups and the volunteers suddenly have to serve multiple people at the same time. Many events allow you to fill your own bottle which may get you out of the station faster and lighten the load on the volunteers.
While it may feel good to stop in front of a station and eat or drink leisurely, make sure you are not in the way of other runners. If you need to take a break before your start up again, move to the side so that incoming runners have access to aid.
Clean Your Hands
Don't stick your dirty hands into food bowls sharing your germs with other runners. (Ewwwww!!!) Use hand sanitizer, a spoon, scooper, or ask a volunteer to hand you food in a cup.
Dispose of your Trash
Leave your trash (used cups, wrappers, etc.) at the aid station or carry it with you until the next station and dispose of it there.  An aid station may also have a trash bag a few yards out but don't expect to see other places to throw out your garbage until the next station.
Don't throw your garbage anywhere on the trail.  Purposely littering on the trail will disqualify you from most races and trash on the trail takes away from other users experiences.
Thank The Volunteers
People working at the aid stations are volunteering their own time to help you during the race. They are the best!!!  Be kind and show them a little love as they are working in the same conditions in which you're running. 
Previous Tip – Passing on the Trail
Next Tip – Coming Soon!