Frosty 5 Sponsor Highlight: HUDSON CYCLEBAR
Staying fit in the winter can be a drag. That's why we are thankful for our Frosty 5 Mile sponsor, Hudson CycleBar! For a great bike workout with high energy classes, no matter where you are in your fitness journey, give Hudson CycleBar a try!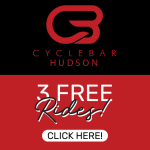 From a trail runner/cyclist friend of Western Reserve Racing who recently tried Hudson CycleBar: 
I went to my first CycleBar ride today.  Yes, I was nervous being the new kid in class. However, the staff greeted me and knew it was my first time. They helped me with the bike setup and showed me around. I cycle quite a bit and also ride a fancy indoor trainer with a virtual cycling app. I thought to myself 45 minutes should be pretty easy. Well, it was the highest intensity workout I have done in a long time!
The basics are that you are on a spinning bike in a room that is built to really provide a good environment with a great sound system, lighting, etc. The instructor plays music at the beats per minute that is to be aligned with your cadence/rpm. There is a knob that provides the resistance. The bike also has a display showing you your cadence and resistance level. The instructor calls out the resistance level to set the bike and the cadence you should be spinning at different times during the workout. The workout is structured such that you can modify anything you want to be within your comfort zone. Periodically during the workout, metrics will be displayed on screens in front of the room. You will see how you are doing and how everyone else is doing. Yes, everyone is ranked! After the class, you receive an email with your performance data.
I don't typically work that hard when I cycle… not even close. Relating it to running, I would say it would be the equivalent of a really good, intense track workout. There is just enough time to recover a bit before you go right back into high heart rate activity. The difference for me is that I do not have any joint pain or other discomfort… just tired legs. If you are looking for a high intensity workout that is easy on your body, I highly recommend trying CycleBar. It has a great vibe and you really feel part of a team working together to get a good workout in. They make it easy to try by giving you the first couple rides for free. I hope to see you there! Use this link to claim your 3 free rides.