For each Dirty Trail Race this year, starting with the Dirty Snowflake in January, we will be highlighting different  trail etiquette tips to make trail races safer and more enjoyable for all and to better protect the trails we run on and their surroundings.  Whether you are new to the sport or an old pro, check out and share these useful tips!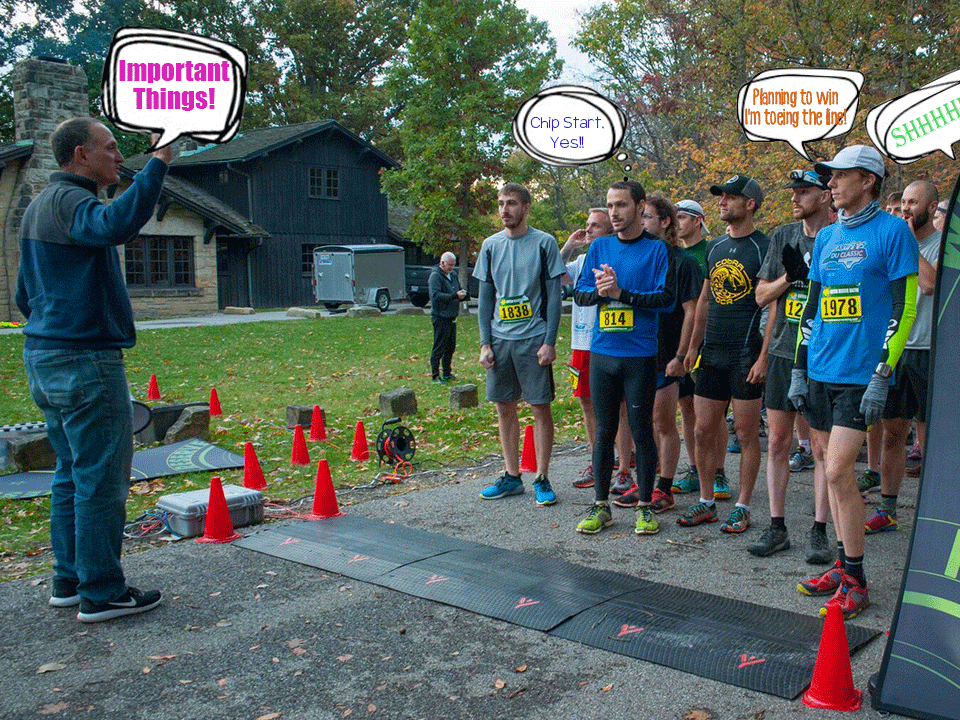 TRAIL ETIQUETTE – RACE START
If you're new to racing (whether it's trail racing or road racing) you may be uncertain as to how to best start a race, including where to start and how hard to run at the start. You may also not be sure of how your finish time is calculated.
Getting Ready to Run
No matter what distance you're racing, it's always helpful to be prepared.
Your pre-race preparation should include familiarizing yourself with the course including the distance, the number of aid stations, what the aid stations will be offering (water, gels, etc.), the location of restroom facilities on the course and the terrain. You don't need to know the course inside and out, but arm yourself with this info and you're less likely to have any surprises on race day. Check out the pre-race info email for most of this information.
Use the restroom before the start if you need to go. (Not doing so can cause you time and discomfort during the race.)
Then make sure you arrive at the start a little early.  There's nothing more stressful to a runner than parking the car and having to hurry to packet pickup, make a pit stop and then sprint to the starting line,
Chip Time vs. Gun Time
Today, most races provide runners with bibs that have an electronic chip attached. This chip is used to measure the runner's time in a race. There are generally two types of finish times that can be calculated for each runner at a event: chip time and gun time.  
With chip time the finish time is calculated by measuring the time between the runner crossing an electronic mat at the start line and crossing a similar mat at the finish line.   
The gun time is calculated by measuring the time from the official start of the race (i.e. when the starting "gun" is fired or runners are told "Go!")  until the runner crosses the finish mat at the finish line.
Note that some races will not have a chip-timed start (especially smaller races) or may not use chips at all, in which case runners will only have a gun time. In addition, awards (for top finishers and age group awards) are most often based on the fastest gun times.
Bibs
Whether the race is chip or gun timed, you should always wear your bib on your front and pin it to your outermost layer of clothing. Keeping chips away from zippers and cell phones is a good idea too.
Where Should You Start?
Experienced runners usually have a better idea of their abilities and their expected pace.  In general, faster runners should start closer to the front of the race, near the starting line. Likewise, if you're a slower runner or are running with a leashed dog, you should start towards the back of the pack as a courtesy to other runners and prevent potential collisions.
Pre-Race Instructions
This is the time when the RD will thank sponsors, make silly jokes, and countdown to the start.  It is also the time when any last minute instructions will be conveyed to runners.  These announcements are made at the start line and can include important information such as course changes, trail marking descriptions or hazards that you won't want to miss. We give you permission to shush the people around you if you can't hear what the RD is saying:)
Previous Tip – Aid Stations
Next Tip – Coming Soon!