Dirty Snowflake Prediction Run
Sunday, January 14th, 10:00 a.m. at Ledges Shelter
Q – What the heck is a prediction run?
A– A prediction run requires you to predict how long it will take you to complete the four-ish mile, loop course starting at Ledges Shelter in Peninsula, OH.  You will submit your predicted time during registration.
Q – Do I have to finish first to win?
A – No way!  The winner is the person that finishes closest to his/her predicted time.
Q – Can I wear my watch/Garmin/etc.?
A – Leave your gadgets at home please.  They are not allowed on the course during the race.
Tip – If you want to keep it fair and still record your miles, just cover your watch with a piece of (non clear) tape.
Q – I predicted a ridiculously fast/slow time during registration, can I change it?
Q – I forgot the time I predicted, how can I find this info?
A – No problem!  Your predicted time will be printed on the back of your bib.  On race morning take a look at your time.  If you would like to change it, simply look for the "Prediction Time" sign next to packet pickup and someone will be happy to help.  If you are satisfied with your original prediction time, no further action is required.
Q – What will the swag be this year?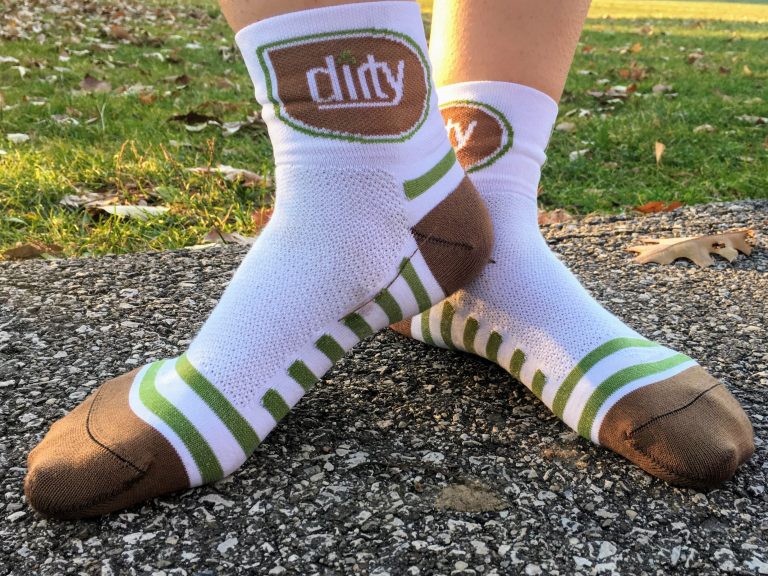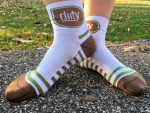 A – Dirty Trail Series recycled coolmax socks, 3″ cuff, no feel toe seam, made in USA
Tip –  Have enough race swag? Select the No Swag option and the cost of your swag will be donated to the Conservancy for CVNP!
Q – It is January.  Will it be cold/snowy/icy?
A – Maybe.  It IS January.
Tip – Prepare for the weather by dressing in layers.  Gloves and face coverings are easy to shed and stash in a pocket.  You'll warm up quickly once you're moving and there will be fires roaring in the shelter.  We will also have some delicious hot soup available post-race to warm you right up!
Q – This is the first Dirty Trail Series race of the year. Is there a way I can sign up for all the entire Dirty Trail Series?
A – Become a Dirty VIP Member! You will receive oodles of benefits that run throughout the entire year. See all the dirty details HERE!
Q – This race sounds amazing! Where can I find additional information and registration?
A – All the details including times, awards, swag, course info, pricing, and registration can be found HERE. For updates and even more fun, check out our Facebook event page HERE.
Tip – Sign up before January 4th for earlybird pricing!