We've got good news! Fools 50k & 25k Trail Run will now take place at Camp Manatoc.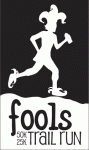 Everyone's favorite spring trail race will have a new location beginning in 2018 and we are stoked about all the improvements that come along with the move. If you are asking yourself how Fools can possibly get any better, let us explain-
Heated Shelter – Camp Manatoc has the neatest dining hall in the area! It was built in 1931 out of Wormy Chestnut, is filled with interesting Boy Scout Troop plaques, has plenty of tables & chairs and is nice and warm at the end of March.
Shower House – Wash off the mud, warm up, and put on clean dry clothes before grabbing your post race grub.
Post Race Social – Remember that heated shelter? Come on inside and make some new friends over hot food and drinks.
Bathrooms – Sounds silly but there are about a million of them! All indoors. No port-o-pottie lines for this race.
Beer – Toast your amazing finish and support the Crooked River Chapter of the Buckeye Trail Association with a pint of local suds.
Private Trails – The trails of Camp Manatoc are private which means you get a unique opportunity to run trails that aren't normally open to the public! It also means there is no chance of a reschedule due to unpredictable weather.
Loop Course – The 8 mile loop course offers easy spectating and plenty of chances to access your drop bag.
For more details and registration, hop on over to the Fools page.
We hope you'll fool around on the trails of Camp Manatoc with us on March 31st!